Epoxy Floor Coating 3 Gal Kit Clear. 100% Solids. DK500.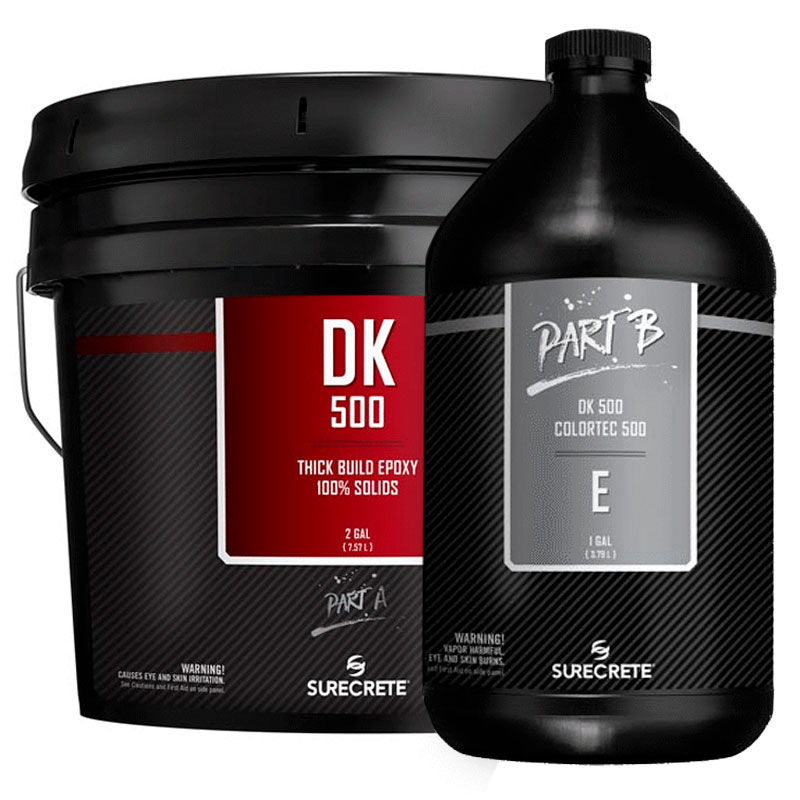 Dura-Kote 100% Solids Clear Coat Epoxy Floor Coating 3 Gal kit


Dura-Kote Epoxy 100 Floor Coating is a 2 component 100% solids, zero VOC floor coating system that is used in a wide variety of applications:
- high build color coat for a host of decorative concrete systems;
- primer coat and binder for Dura-Kote Epoxy Floor Coating and Epoxy Metallic System. Yellowing and blush are minimized by the use of a Cycloaliphatic Amine curing agent for part B. Utilizes industry-leading pigments that are able to achieve the preferred substrate hide and tint uniformity in hundreds of colors. The high performance, self-leveling characteristics generate the premier balance of strength, flexibility, and chemical resistance that is both user-friendly and extremely durable. Dura-Kote 100% Solids Epoxy Floor Coating is ideally suited for any commercial or residential setting: manufacturing facilities, warehouses, bars, clubs, retail stores, automotive showrooms, residential interiors, garage floors, gyms, locker rooms, stadiums, or anywhere that an exceedingly resilient floor is desired.
Epoxy Floor Coating Coverage:

As clear coat: approximately 100 – 150 ft² per gal. (9.3 – 13.9 m² per 3.8 liter) 10.7 – 16 mils
For thick build: 40 – 70 ft² per gal. (3.7 – 6.5 m² per 3.8 liter) 23—40 mils


"Economy"

is an aliphatic amine hardener that delivers a cost effective clear coat. Aliphatic amines are susceptible to blushing and yellowing over time. GlobMarble highly recommends the use of a polyurethane or polyaspartic top coat to extend the duration of time before the blushing and yellowing occur.


"Premium"

is a cycloaliphatic amine hardener that delivers a premium epoxy coating. Cycloaliphatic amines are preferred do to their increased resistance to: impact, chemicals, water/moisture, and high temperatures. In addition, the cycloaliphatic amine hardener aids in lowering blushing, water spotting, and yellowing. Premium Part "B" is generally used in thick build and metallic flooring systems.