Epoxy Floor Coating 3 Gal Kit Clear. 100% Solids. DK500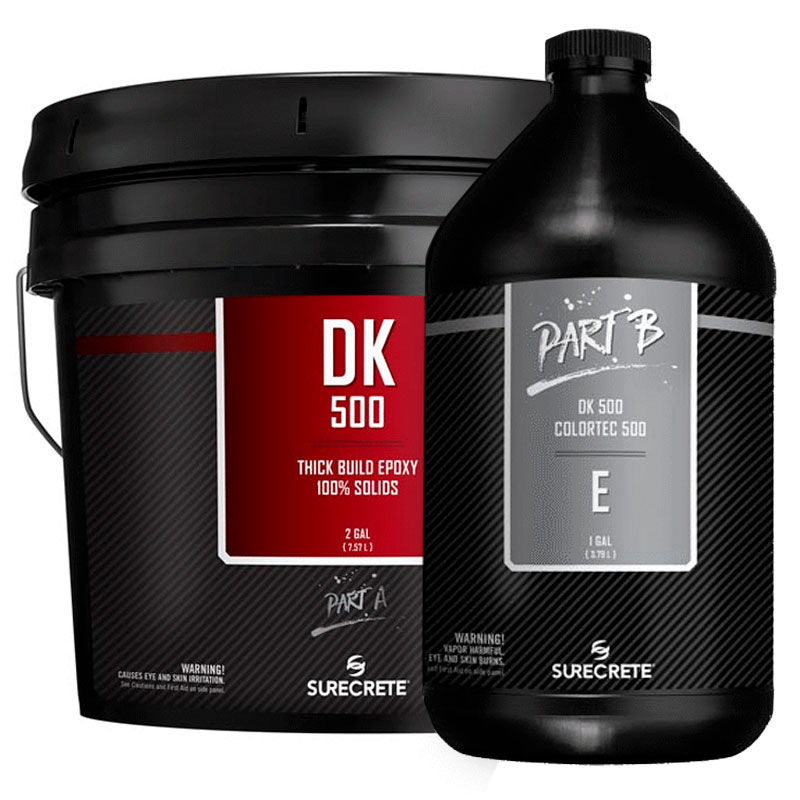 Dura-Kote 100% Solids Clear Coat Epoxy Floor Coating 3-Gal kit
Dura-Kote Epoxy 100 Floor Coating is a 2 component, 100% solids, zero VOC floor coating system that is used in a wide variety of applications:
high build color coat for a host of decorative concrete systems;
primer coat and binder for Epoxy Floor Coating and Epoxy Metallic Systems.
Yellowing and blush are minimized by the use of a Cycloaliphatic Amine curing agent for part B. Utilizes industry-leading pigments that are able to achieve the preferred substrate hide and tint uniformity in hundreds of colors. The high performance, self-leveling characteristics generate the perfect balance of strength, flexibility, and chemical resistance that is both user-friendly and extremely durable.
Dura-Kote 100% Solids Epoxy Floor Coating is ideally suited for any commercial or residential setting: manufacturing facilities, warehouses, bars, clubs, retail stores, automotive showrooms, residential interiors, garage floors, gyms, locker rooms, stadiums, or anywhere that an exceedingly resilient floor is desired.
Epoxy Floor Coating Coverage:
As clear coat: approximately 100–150 ft2 per gal. (9.3–13.9 m2 per 3.8 liter) 10.7–16 mils
For thick build: 40–70 ft2 per gal. (3.7–6.5 m2 per 3.8 liter) 23—40 mils
How To Use:
Any surface must be completely level, and clean/free of any contaminates.
Any surface being treated with epoxy must be primed. Use an epoxy primer, or a very thin layer of epoxy rolled on with an EpoxyGlide Roller.
Mix 2 parts A with 1 part B into a clean mixing container. If you are using additives like metallic pigments or epoxy pigments, add them in too. (The kits are premeasured to this ratio)
Pour the epoxy on your desired surface, and use either a squeegee or an EpoxyGlide roller to spread the material at the desired thickness.
Backroll the epoxy with a de-fuzzed EpoxyGlide roller to remove any imperfections and roller marks.
Let it cure, and after 24-72 hours, the floor will be ready for heavy traffic (colder temperatures take longer to cure)
Optional: To place a sealer, sand the epoxy with 220 grit, remove all the dust and debris, and apply your sealer.
"Economy" is an aliphatic amine hardener that delivers a cost-effective clear coat. Aliphatic amines are susceptible to blushing and yellowing over time. GlobMarble highly recommends the use of a polyurethane or polyaspartic top coat to extend the duration of time before the blushing and yellowing occur.
"Premium" is a cycloaliphatic amine hardener that delivers a premium epoxy coating. Cycloaliphatic amines are preferred because of their increased resistance to: impact, chemicals, water/moisture, and high temperatures. In addition, the cycloaliphatic amine hardener aids in lowering blushing, water spotting, and yellowing. Premium Part "B" is generally used in thick build and metallic flooring systems.
Frequently Asked Questions About Dura-Kote Clear Concrete Floor Epoxy 100:
Q: Can I use just one coat of Dura-Kote Floor Epoxy 100?
A: Yes, you can! Although it will depend entirely upon your desired finished floor and the amount of protection you need, DK500 was designed specifically for this purpose!
Q: Will DK500 self-level and fill small holes?
A: Yes, it certainly will! However, be sure not to try to bridge expansion joints as these are necessary to allow movement in the concrete.
Q: Can DK500 be used outside?
A: No, epoxy coatings are not vapor-permeable and therefore should not be utilized in exterior applications.
Q: I have strict VOC laws in my area, can I use DK 500?
A: Without question, yes! At zero grams per Liter of VOC content DK500 can be used no matter how strict local VOC laws are!
Q: If I'm putting down the second coat of Epoxy 100, does it have to be screened?
A: Yes, its best to sad the surface with 220 grit to get a proper bond between each coat.