Colored Epoxy Floor Coating. ColorTec DK 600WB. Water-Based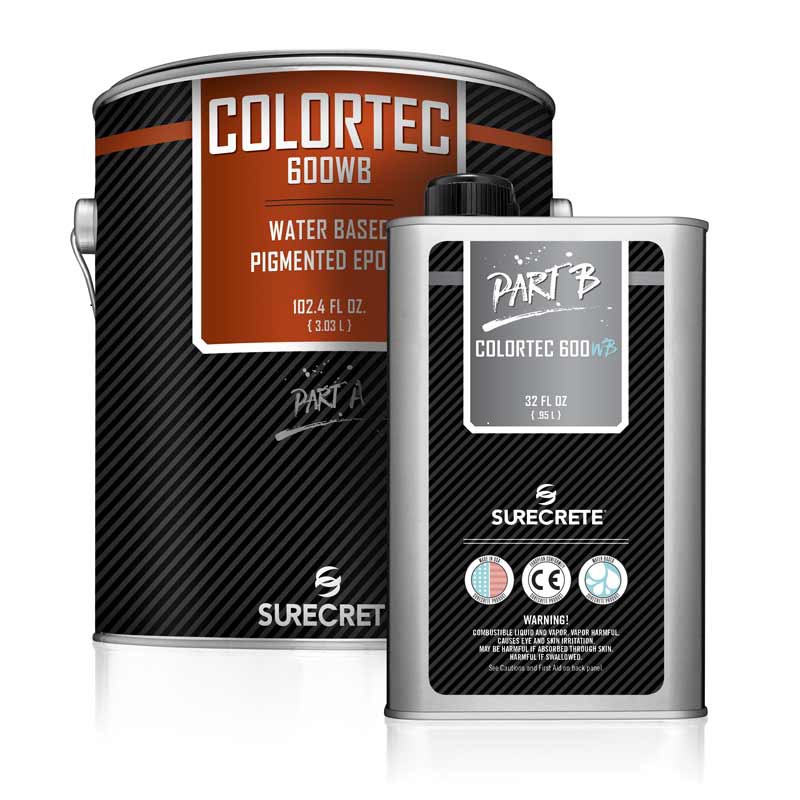 Dura-Kote Water Based Pigmented Epoxy Coating
Colored Epoxy Floor Coating is a 2 component 52% solids, low VOC floor coating system that is used in a wide variety of applications:
durable pigmented coating for both new and old interior concrete floors;
primer coat (epoxy basecoat), and binder for SureCrete's Dura-Kote Flakes or Metallics Epoxy Floor System.
The pigments achieve the preferred substrate and tint evenly in hundreds of colors. WB Epoxy Floor Coating generates the perfect balance of strength, flexibility, and chemical resistance, all in a low odor, low VOC formulation.
Applications range from manufacturing facilities, warehouses, bars, clubs, retail stores, automotive showrooms, hospitals, medical centers, residential interiors, garage floors, gyms, locker rooms, stadiums, or anywhere that an exceedingly resilient floor is desired.
Colored Epoxy Floor Coating Coverage:
Varies due to porosity of substrate
As 1st coat approximately 125-175 ft2 per gal. (11.6-16.3 m2 per 3.8 liter) 9–13 mils wet; 4.7–6.8 mils cured
For smooth surface or second coat approximately 200-250 ft2 per gal. (18.6-23.2 m2 per 3.8 liter) 6.4-8 mils wet; 3.3–4 mils cured
How To Use:
Any surface that will be sealed must be fully cured, properly cleaned, fully profiled and etched. Moisture should be limited because Water based epoxy systems are non-vapor permeable.
Make sure that the temperature remains between 50-90 degrees Fahrenheit and a relative humidity below 75%. Also make sure that there will be no precipitation of any kind in the area for the next 12 hours.
Pour 1 part B and 1 part A into a clean mixing container and mix mechanical for at least 3 minutes.
Use a premium defuzzed phenolic roller like EpoxyGlide. Roll a thin coat over the desired area and backroll the entire surface to remove roller marks.
Two layers are suggested with any interior sealer. The first coat should be dry to the touch (usually within 6 to 8 hours after application). If it has been longer than 12 hours, the surface needs to be sanded with 100 grit before applying the second coating to ensure a proper bond between the two coatings.
Optional: Use a sacrificial wax coating such as SureFinish to extend the life of the floor and to add slip resistance.