Water Based Epoxy GE-10W. Clear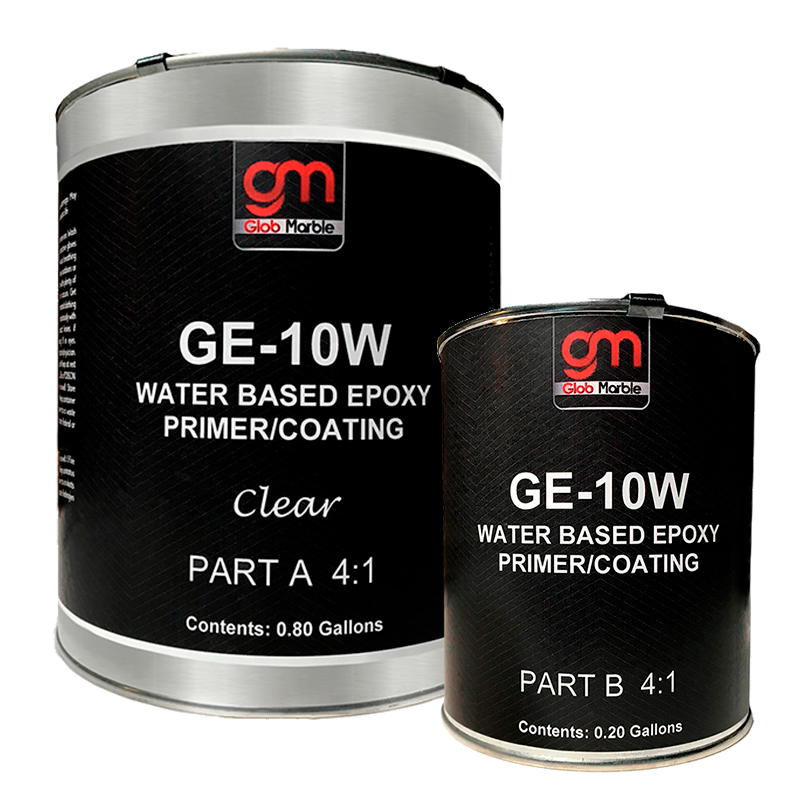 GE-10W is a high-performance clear water-based top coat floor epoxy with low VOC. GE-10W is a 2 component 53% (colors); 45% (clear) solids floor epoxy coat for cement-based overlays and interior concrete. GE-10W is used as a top or base coat, this product can withstand exposure to many solvent based systems with the safety and ease of a low VOC (175 g/L) water base system.
Ant-graffiti properties are enhanced due to it being a vertical wall coating. Unlike nearly all epoxies, GE-10W has remarkable properties related to moisture:
GE-10W water based ideally suited for priming or concrete coating, wood or masonry at manufacturing facilities, garage floors, gyms, residential interiors, automotive showrooms, warehouses, bars, clubs, retail stores and more.
Recommended film thickness:
5-7 mils per coat wet thickness (yields 2-3 mils dry)
Coverage per gallon:
229 to 320 square feet (22 m2 to 30 m2) @ 5-7 mils wet thickness
Packaging:
2 gallon and 5-gallon kits (volume approx.)
Epoxy mix ratio:
Colors = 8.55# part A (.80 gallons, approximate) to 1.75# part B (.20 gallons, approximate)
Clear = 6.55# part A (.80 gallons, approximate) to 1.90# part B (.20 gallons, approximate)
How to Apply GE-10W Water Based Epoxy
Before sealing the surface, you are working on make sure it is completely cured, clean, and free of any contaminants and completely profiled and etched. Make sure the moisture is limited because colored water-based epoxy systems are non-vapor permeable sealers.
The temperature needs to remain between 50 and 90 degrees Fahrenheit and have a relative humidity below 75%.
Pour 1-part B into 1-part A into a large mixing container and mix mechanically for a minimum of 3 minutes.
Use a premium, de-fuzzed, phenolic core roller to roll out the surface. Apply thin coats over a workable area, making sure to maintain wet edges and backtroll the entire surface. Do not leave pail upside down to drain onto floor. Any un-mixed portion of A or B that may have accidentally been placed onto side of pail can now drain down onto the floor, creating a spot that will not cure.
With all interior projects that receive a water-based epoxy coating two layers are usually suggested. The first coat takes typically 6-8 hours to dry depending on environmental conditions. Make sure the first coat is completely dry before moving forward with the next step. If you allowed the first coat to cure longer than 12 hours you have to screen the surface with a 100 grit sanding screen before you apply the second coat so a good bond is ensured. Make sure your surface clean, and free of any contaminants. The second coat is applied he same as the first coat.
Though not required, you can use a wax coating to extend the longevity of the floor and add some slip resistance.
Frequently Asked Questions about Water Based Epoxy
Q: Can I apply the water-based epoxy coating on wall?
A: This is floor epoxy coating that recommended for horizontal surfaces. Floor epoxy coating like this one is not as sag resistant as traditional wall paint. If applied to a vertical surface, this product may sag or run causing drips.
Q: My concrete has a lot pot marks in it. Can I use this epoxy to smooth it out again or will it not last on a concrete?
A: No. Epoxy floor coating does not fill holes well. Use a designed filler for concrete.
Q: Could it be applied over a tiled floor surface, will it bong to grout lines?
A: Water based floor epoxy can but only after the tiles have been mechanically ground to where there is no glaze or any kind of sealer on top. It should bond to the grout lines without any problem.