Concrete Oxide Pigments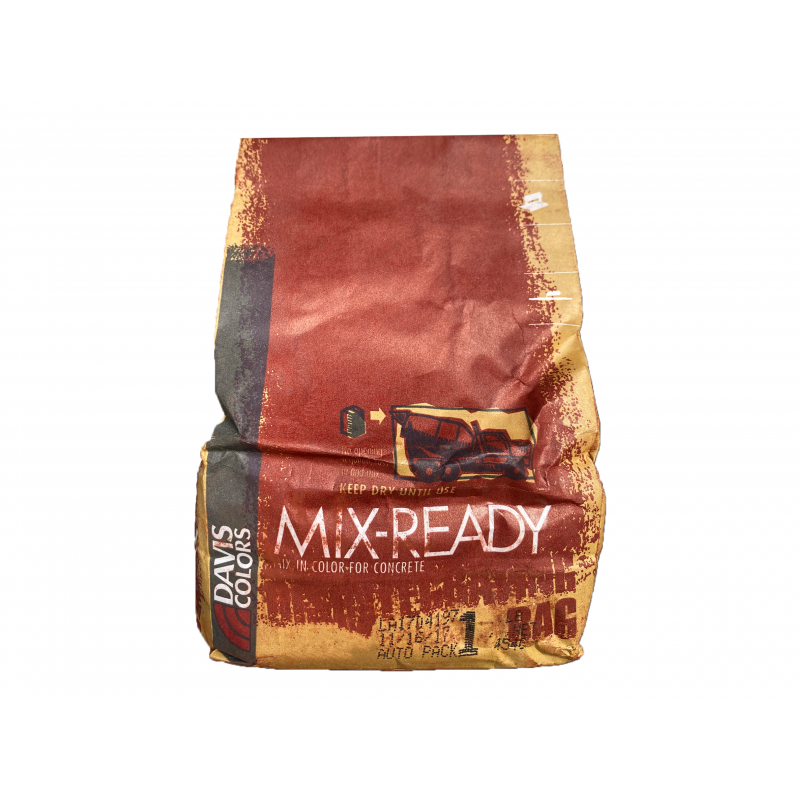 Concrete Oxide Pigment
Oxide Concrete Colors for Concrete. 1Lb-(0.45kg) Mix Ready bag.
Photos of Concrete Tiles colors
Select "Measuring" icon to preview concrete pigment dosage rate.
Concrete Oxide Pigments and Colors. Our concrete oxide pigment is a dry powder that can be used to add color to concrete, stucco, plaster, mortar, grout, countertop mix and other cement materials. It is also used in the ceramic industry. Mix the concrete oxide pigment into any concrete, transforming it into a new design feature for veneer stone, paving stone and concrete countertops projects or to enhance appearance around the home. Davis Colors are strong, durable and last as long as the concrete. There are bold and intense premium colors, standard colors that add less than a dollar per square foot, and subtle shades for any budget.
Each pigment can create a various concrete color options.
There is 20 based (standard colors). All of these colors can create different shades and intensities depending on the amount of powder used in the cast.
For example 160 color can create a 4 different color tones depends to pigment to cementitious material usage rate.
160 Canyon color - Powder Dose Rate: 0.5 lbs per 94 lb sack of cement
160 Sunset Rose color - Powder Dose Rate: 1 lbs per 94 lb sack of cement
160 Baja Red color - Powder Dose Rate: 2 lbs per 94 lb sack of cement
160 Brick Red color - Powder Dose Rate: 4 lbs per 94 lb sack of cement
Please note: pigment dosage calculated by cementitious material weight.
For more details, please refer to our pigment dosage chart
How to select concrete oxide pigment colors video instruction:
How much white pigment to use for concrete video link
MIX-READY INTEGRAL COLORS
Concrete oxide pigment loading rate is between 1% and 10% depending on depth of color required in the mix.
PLEASE BE ADVISED THAT COMPUTER SCREENS AND CAMERA SHOTS CAN GIVE VARIOUS COLORATION DIFFERENCES IN THE SAMPLE PICTURES. ADDITIONALLY CONCRETE CONTENT AND ENVIRONMENTAL FACTORS CAN DRASTICALLY CHANGE COLOR RESULTS.
This concrete oxide pigment is lightfast, odorless, alkali and weather resistant, UV stable, non-hazardous, chemically inert, water insoluble, providing consistent color.
Innovative Mix-Ready bags disintegrate during mixing for clean color handling and no environmental waste.
Mix-Ready is the original disintegrating bag for concrete colors and has been used successfully in millions of yards of concrete.
Mix-Ready bags end the dirty looks from drivers with dust in their faces, and from dispatchers upset that measuring and adding color the old-fashioned way delays trucks.
Toss in and mix. No opening required.
Ready Mix operators just toss unopened Mix-Ready bags into concrete mixer. Mix-Ready bags are made of special paper and adhesive which get soggy when wet and disintegrate during mixing. The bags release Mix Ready Concrete Color deep in the mixer to disperse uniformly. Color handling is clean and environmental waste is minimized.
Mix Ready Concrete Colors are lightfast, lime-proof, weather-resistant color "admixtures" made of metal or mineral oxides either recycled from iron or refined from the earth. (Supra-Instant Black is a concentrated carbon black, treated in a proprietary process for extra tint strength and dispersibility. It is an economical alternative where concrete is not air-entrained and is protected against water damage.)
Mix Design
Determine pigment number and pigment dosage rate from our Color Card. Custom shades are made by varying the amount of color added to the mix. Typical dosage rates range from one to five pounds of Mix-Ready per 94 pound (1 cu. ft.) of cement content. Approx. 1 to 5% of cement content. Cement content includes portland cement, fly ash, silica fume, lime and other cementitious materials but not aggregate or sand.
INSTALLATION: Integrally colored concrete is installed the same way as high quality uncolored concrete. Choose a color on the inside of this color card and specify it by name and color number. Create a custom color by varying the amount of color added to the mix. Confirm desired color with a fully-cured job-site test panel. Dry color dose rates range from 1/2 to 7 lbs. per 94 lbs. of cement content and should never exceed 10% of cement content. (Liquid dose rates are higher). Cement content includes portland cement, fly ash, silica fume, lime and other cementitious materials but does not include aggregate or sand. Davis Colors have been used successfully in a wide variety of mix designs and are compatible with commercially available admixtures. The only known incompatibility is with calcium chloride set accelerator which causes blotching and discoloration. Supra-Instant black #8084 reduces or negates the effect of air-entraining admixtures.
If you need other colors that we don't have listed you can contact us and we can order it. If you need larger amounts let us know and we'll send you a quote.
Pigment available in 1, 25, 50 lbs. bags.
Number: 61078
Name: Adobe
Powder Dose Rate: 4 lbs per 94 lb sack of cement

Number: 5844
Name: Autumn Gold
Powder Dose Rate: 3 lbs per 94 lb sack of cement

Number: 160
Name: Baja Red
Powder Dose Rate: 2 lbs per 94 lb sack of cement

Number: 6130
Name: Bayou
Powder Dose Rate: 1 lbs per 94 lb sack of cement

Number: 160
Name: Brick Red
Powder Dose Rate: 4 lbs per 94 lb sack of cement

Number: 160
Name: Canyon
Powder Dose Rate: 0.5 lbs per 94 lb sack of cement

Number: 6455
Name: Caramel
Powder Dose Rate: 2 lbs per 94 lb sack of cement

Number: 6804
Name: Cliffside Brown
Powder Dose Rate: 2.5 lbs per 94 lb sack of cement

Number: 860
Name: Cobblestone
Powder Dose Rate: 2 lbs per 94 lb sack of cement

Number: 6130
Name: Cocoa
Powder Dose Rate: 2 lbs per 94 lb sack of cement

Number: 8084
Name: Dark Gray (Carbon)
Powder Dose Rate: 1 lbs per 94 lb sack of cement

Number: 860
Name: Dark Gray (Iron Oxide)
Powder Dose Rate: 5 lbs per 94 lb sack of cement

Number: 6058
Name: Dune
Powder Dose Rate: 0.5 lbs per 94 lb sack of cement

Number: 61222
Name: Eastern Tan
Powder Dose Rate: 1 lbs per 94 lb sack of cement

Number: 418
Name: Euroblue (Cobalt)
Powder Dose Rate: 3 lbs per 94 lb sack of cement

Number: 641
Name: Flagstone Brown
Powder Dose Rate: 3 lbs per 94 lb sack of cement

Number: 1395
Name: Granite Red
Powder Dose Rate: 4 lbs per 94 lb sack of cement

Number: 8084
Name: Graphite (Carbon)
Powder Dose Rate: 2 lbs per 94 lb sack of cement

Number: 860
Name: Graphite (Iron Oxide)
Powder Dose Rate: 10 lbs per 94 lb sack of cement

Number: 3685
Name: Green Slate
Powder Dose Rate: 3 lbs per 94 lb sack of cement

Number: 5084
Name: Harvest Gold
Powder Dose Rate: 2 lbs per 94 lb sack of cement

Number: 8084
Name: Jet Black (Carbon)
Powder Dose Rate: 1.5 lbs per 94 lb sack of cement

Number: 860
Name: Jet Black (Iron Oxide)
Powder Dose Rate: 7.5 lbs per 94 lb sack of cement

Number: 677
Name: Kailua
Powder Dose Rate: 4 lbs per 94 lb sack of cement

Number: 6804
Name: Lakeside Brown
Powder Dose Rate: 5 lbs per 94 lb sack of cement

Number: 8084
Name: Light Gray (Carbon)
Powder Dose Rate: 0.5 lbs per 94 lb sack of cement

Number: 860
Name: Light Gray (Iron Oxide)
Powder Dose Rate: 2.5 lbs per 94 lb sack of cement

Number: 5447
Name: Mesa Buff
Powder Dose Rate: 2 lbs per 94 lb sack of cement

Number: 677
Name: Mesquite
Powder Dose Rate: 1 lbs per 94 lb sack of cement

Number: 5447
Name: Miami Buff
Powder Dose Rate: 1 lbs per 94 lb sack of cement

Number: 6058
Name: Mocha
Powder Dose Rate: 1 lbs per 94 lb sack of cement

Number: 5084
Name: Omaha Tan
Powder Dose Rate: 1 lbs per 94 lb sack of cement

Number: 677
Name: Outback
Powder Dose Rate: 0.5 lbs per 94 lb sack of cement

Number: 61078
Name: Padre Brown
Powder Dose Rate: 5 lbs per 94 lb sack of cement

Number: 5447
Name: Palomino
Powder Dose Rate: 3 lbs per 94 lb sack of cement

Number: 641
Name: Pebble
Powder Dose Rate: 0.5 lbs per 94 lb sack of cement

Number: 860
Name: Pewter
Powder Dose Rate: 1 lbs per 94 lb sack of cement

Number: 1395
Name: Plum
Powder Dose Rate: 2 lbs per 94 lb sack of cement

Number: 61078
Name: Pueblo Brown
Powder Dose Rate: 2.5 lbs per 94 lb sack of cement

Number: 6804
Name: Roadside Brown
Powder Dose Rate: 1.25 lbs per 94 lb sack of cement

Number: 6058
Name: Rustic Brown
Powder Dose Rate: 2 lbs per 94 lb sack of cement

Number: 10134
Name: Salmon
Powder Dose Rate: 2 lbs per 94 lb sack of cement

Number: 5237
Name: San Diego Buff
Powder Dose Rate: 1.5 lbs per 94 lb sack of cement

Number: 5237
Name: Sandstone
Powder Dose Rate: 0.75 lbs per 94 lb sack of cement

Number: 1117
Name: Sangria
Powder Dose Rate: 1.5 lbs per 94 lb sack of cement

Number: 1117
Name: Santa Fe
Powder Dose Rate: 0.75 lbs per 94 lb sack of cement

Number: 641
Name: Sequoia Sand
Powder Dose Rate: 1 lbs per 94 lb sack of cement

Number: 61078
Name: Sierra
Powder Dose Rate: 2 lbs per 94 lb sack of cement

Number: 8084
Name: Silversmoke (Carbon)
Powder Dose Rate: 0.25 lbs per 94 lb sack of cement

Number: 860
Name: Silversmoke (Iron Oxide)
Cost: $$
Hex: 5e6159
Description: This color is part of the Standard ($$) group and is mid-range cost-per-yard/meter.
Powder Dose Rate: 1.25 lbs per 94 lb sack of cement

Number: 10134
Name: Southern Blush
Cost: $$
Hex: 917657
Description: This color is part of the Standard ($$) group and is mid-range cost-per-yard/meter.
Powder Dose Rate: 1 lbs per 94 lb sack of cement

Number: 5084
Name: Spanish Gold
Cost: $$$
Hex: 946b42
Description: This color is part of the Premium ($$$) group and is high-range cost-per-yard/meter.
Powder Dose Rate: 3 lbs per 94 lb sack of cement

Number: 160
Name: Sunset Rose
Cost: $$
Hex: 9c735a
Description: This color is part of the Standard ($$) group and is mid-range cost-per-yard/meter.
Powder Dose Rate: 1 lbs per 94 lb sack of cement

Number: 677
Name: Taupe
Cost: $$
Hex: 7b6b5a
Description: This color is part of the Standard ($$) group and is mid-range cost-per-yard/meter.
Powder Dose Rate: 2 lbs per 94 lb sack of cement

Number: 10134
Name: Terra Cotta
Cost: $$$
Hex: 9c6339
Description: This color is part of the Premium ($$$) group and is high-range cost-per-yard/meter.
Powder Dose Rate: 4 lbs per 94 lb sack of cement

Number: 1117
Name: Tile Red
Cost: $$$
Hex: 946352
Description: This color is part of the Premium ($$$) group and is high-range cost-per-yard/meter.
Powder Dose Rate: 3 lbs per 94 lb sack of cement

Number: 5844
Name: Western Gold
Cost: $$
Hex: a98f6a
Description: This color is part of the Standard ($$) group and is mid-range cost-per-yard/meter.
Powder Dose Rate: 1.5 lbs per 94 lb sack of cement

Number: 5376
Name: Willow Green
Cost: $$$$
Hex: 849473
Description: This color is part of the Ultra-Premium ($$$$) group and is very high-range cost-per-yard/meter.
Powder Dose Rate: 3 lbs per 94 lb sack of cement

Number: 641
Name: Yosemite Brown
Cost: $$
Hex: 8c7352
Description: This color is part of the Standard ($$) group and is mid-range cost-per-yard/meter.
Powder Dose Rate: 2 lbs per 94 lb sack of cement