Epoxy-Floor Colored Flake Chips 1/4" 25 lb. bag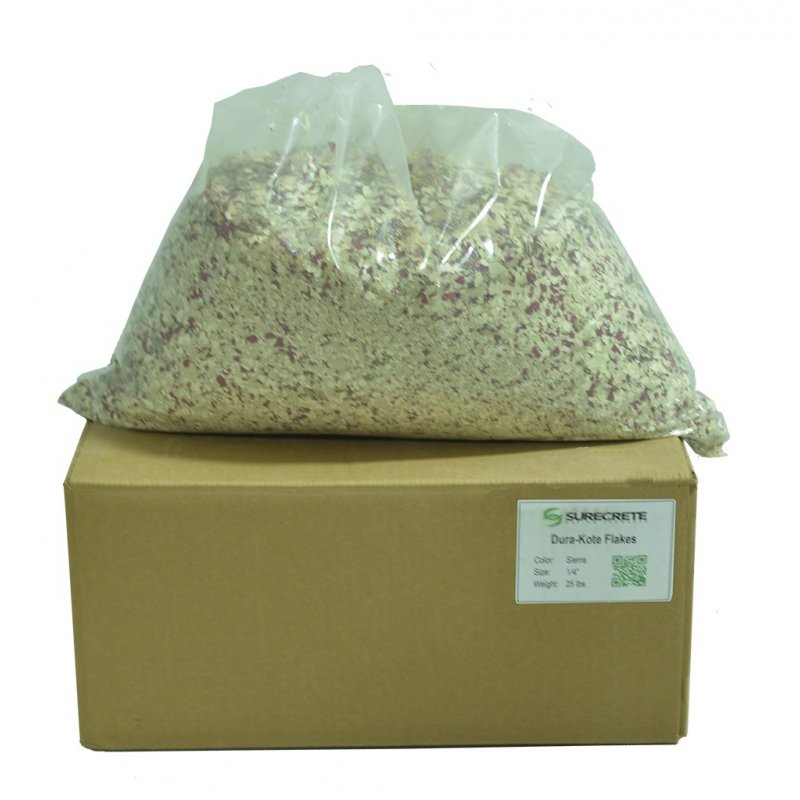 DURA-KOTE EPOXY COLORED FLAKES FROM SURECRETE
- decorative vinyl color chips.
Many companies and homeowners choose to go with an epoxy flake system for their garage floor coating because of its invaluable ability to hide stains and dirt.
This in combination with it's extreme durability make it ideal for high foot-traffic areas or just about any flooring surface that will be subject to constant wear and tear. Keeping a good sacrificial coat of wax or recoated clear epoxy is very important to keep this floor looking it's best at all times.
The relative ease with which Epoxy Flake coatings are applied allows for this system to be applied, not just by seasoned professional decorative contractors, but also homeowners and DIY weekend warriors.
May be applied for garage floors, commercial kitchens, locker rooms, sports venues, automotive showrooms, veterinarian clinics, laundromats, or anywhere that an exceedingly resilient floor is required.
You are purchasing 1/4" Epoxy Flake 25 lb. bag
PACKAGING 25 lb. (11.34 kg) box. Available 12 colors. COVERAGE approximately 125–175 ft2 (11.6 – 16.3 m2) per box
The whole Epoxy Flakes coat system from SureCrete includes:
Binder Coat:
OR
OR
Dura-Kote PFC 280
Top (Flake) coat:
Broadcasting
Floor drying / cure sufficiently, usually takes 8–10 hours
Full coverage: approximately 125–175 ft² (11.6 – 16.3 m²) per box
Finish Coat
Optional: Sure Grip (Non Slip Sealer Additive HD)
How Do You Apply GlobMarble Garage Floor System with Epoxy Floor Flake Chips
Level the floor with a floor grinder or self-leveling concrete
Make sure your concrete floor is not retaining moisture. Test this by taping a 2'X2' plastic sheet to the floor, and leave it overnight. If there are water bubbles under the plastic, the concrete is retaining moisture.
Mix part A & B of GE-100 Floor Epoxy at a 2:1 ratio. Add one of our epoxy pigments that match the color of your flakes.
Squeegee the epoxy onto your floor. Be sure to wear spike shoes!
Backroll the epoxy with an EpoxyGlide roller (roll it on blue painters' tape beforehand to remove loose fibers).
Throw the flakes into the air and let them fall onto your epoxy (chicken feeding motion). Cover the entire floor with flakes evenly.
Once it cures, (usually 12-24 hours later) vacuum the leftover flakes. You could also scrape vertical flakes with a trowel.
Mix, pour and roll a topcoat to seal your flakes.
Flakes frequently asked questions:
Q: Can I apply flakes outdoors?
A: Yes, as long as you use a UV resistant topcoat. Any other topcoat will turn yellow. Contact a GlobMarble sales rep to order UV resistant topcoats
Q: Can I apply this epoxy system on tiles?
A: Yes, as long as you use a diamond grinder on the tiles and fill the seams with a void filler.
Q: How is your product different from The Home Depot/Lowe's product?
A: Home Depot and Lowes will offer you a gallon of floor epoxy with only a handful of flakes. Our 25lb box of flakes covers 125–175 ft2 (11.6 – 16.3 m2) at full broadcast
Q: I've heard that a primers will increase longevity? Do you have any primers available?
A: Yes, even though primers are not required with a flake system, they do help longevity. We have epoxy primers in a variety of colors.
Q: What is the best temperature to apply my floor coating?
A: You could apply our floor epoxy at 55-90 degrees F (10-32 C). The colder it is, the slower your epoxy will cure.
Q: When I mix and apply my topcoat, it is white and milky. Did I do something wrong?
A: No, some topcoats begin as milky, but clear up while they cure. Thicker coats will take longer to clear up (6-12 hours). We recommend 2 thin coats instead of 1 thick coat.