Metallic Pigments for Epoxy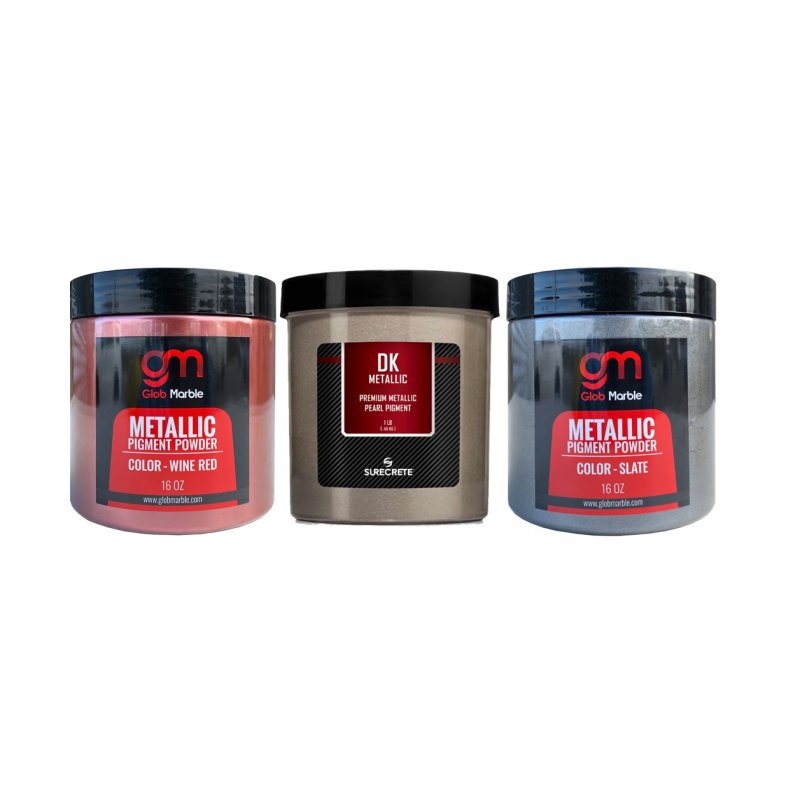 Metallic Epoxy Pigment by GlobMarble
GlobMarble's Metallic Epoxy Pigments is an exciting new seamless flooring system that provides a unique three dimensional appearance with suspended reflective pigments.
Due to the vast options offered within the metallic epoxy system, Metallic Pigments for Epoxy Floor can create floors that range from the elegantly stylish to outrageously bazaar.
The exceptionally durable metallic epoxy combined with a polyurethane or polyaspartic top coat make this epoxy flooring system ideally suited for nearly any commercial (bars, clubs, retail stores, automotive showrooms etc.) or residential (residential interiors, garage floors etc.) setting.
Unlike with solid-color pigment or chips, no two metallic epoxy floors are alike, their appearances are completely dependant upon the artisan's abilities and design ideas. These floors utilize a clear 100% solids epoxy or water-based epoxy, and the translucent floors are colored by GlobMarble Metallic Pearls. A glossy and deep-looking floor created by these coatings can contain a variety of colors and visual effects. Some even have a beautiful three-dimensional appearance that gives the illusion of craters, ripples, and swirling rivers of metallic-looking plasma. Maintenance is easy, and the amount of light they reflect is outstanding due to the glossy nature of the surface.
There are 20 available reflective metallic pigments that can combine with literally 100's of colors in the GlobMarble Epoxies
PACKAGING 1—pint (.47 liter) - material measured by volume
MIXING RATIO 1—pint (.47 liter) metallics to 3—gallon (11.4 liter) epoxy kit
Note: GE-100 Epoxy Top Coat Clear is the carrier medium for GlobMarble Metallics.
COVERAGE 40 – 70 ft2 per gal. (3.7 – 6.5 m2 per 3.8 liter) 23—40 mils
Additional information.
The whole Metallic Epoxy coat system includes:
1. Primer Coat:
100% Solid Pigmented Epoxy 100 OR Pigmented Epoxy WB GE-C10W (As 1st coat approximately 125-175 ft2 per gal. For smooth surface or second coat approximately 200-250 ft2 per gal.)
2. Top (Metallic) Coat:
Mix of:
Epoxy Metallic 1—pint (.47 liter) to GE-100 Epoxy 3—gallon (11.4 liter) epoxy kit approximately 100–150 ft2 per gal. (9.3–13.9 m2 per 3.8 liter) 10.7–16 mils. For thick build: 40–70 ft2 per gal. (3.7–6.5 m2 per 3.8 liter) 23—40 mils
3. Finish Coat
GP-20 Polyaspartic (300–400 ft2 per gal.)
Polyurethane Water-Based or Solvent Based Polyurethane Coatings
Optional:
Sure Grip (Non Slip Sealer Additive HD)
Spiked shoes are required throughout application
APPROPRIATE ROLLERS:
Roller cover with nap size from mohair to 3/8", phenolic core, "De-fuzz", for large areas may require 18" rollers and wider squeegees – you may choose WOOSTER RR642 18" PRO DOO-Z 3/8" NAP ROLLER COVER
How-To Written Instruction: Epoxy Desk