Broom Finish Concrete Overlay - SureBroom (50lb)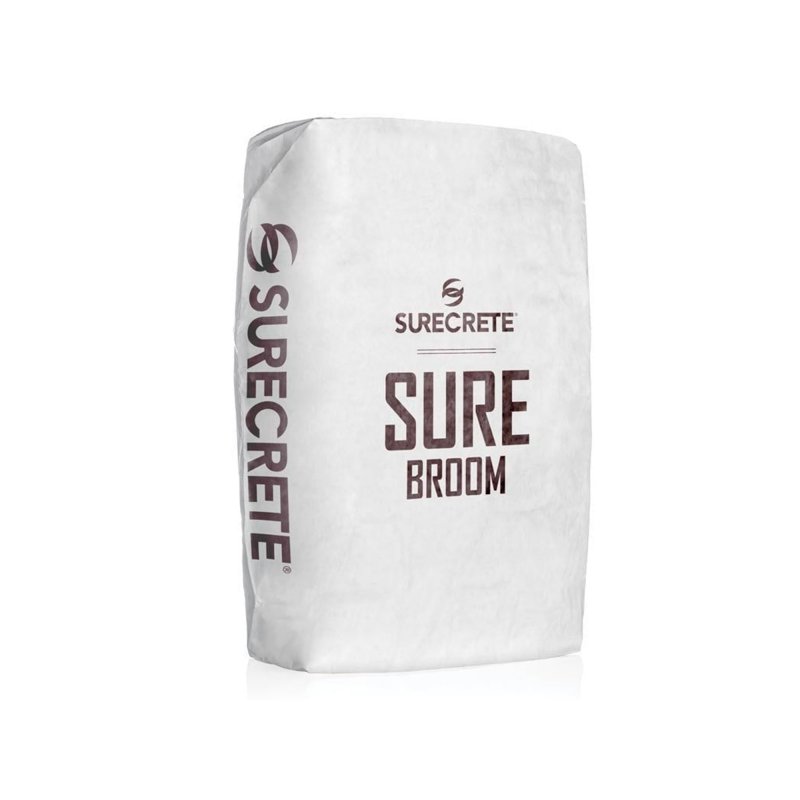 SureBroom Broom Finish Concrete Overlay (50lb) from SureCrete


Broom Overlay Resurface Old Concrete Mix


SureBroom is the premier high-strength thin overlay for extreme trafficked areas. SureBroom is designed to transform old, spalled, dull concrete to a freshly broomed surface. Restoration, repair, resurfacing, architectural accenting, surface protection, and creating slip resistance of existing concrete are all realized through SureBroom. It is prepared with gray cement or white cement to accept Color Packs. Typical areas requiring SureBroom include high rise parking decks, driveways, sidewalks, parking lots, and retail store fronts.
Although designed to be broomed, it may also emulate the many designer looks of other thin overlays.
SureBroom may be applied with a concrete broom or by a combination of compressed air spray equipment and/or trowel / squeegee.
APPLICATION SURFACES:
Residential Sidewalks,
Home Driveways,
Commercial Floor Coatings,
Property Management Walkways,
Solid Color Floors,
Blank Canvas for Eco-Stain,
Apartment Complex Stair Treads & Risers
PACKAGING: 50 pound (22.7 kg) bag
MIXING RATIO 4 – 6 ½ qt. (3.8 – 6.2 liter) water to 1 – 50 pound (22.7 kg) bag of SureBroom
Optional - 5 pound (227 g) Color Pack
COVERAGE Depends upon application and substrate 1 - 50 lb. (22.7 kg) bag of SureBroom 90 ft² (8.4 m²) @ 1/16" (1.6 mm) @ 2 thin broomed coats
DENSITY 132 pounds/ft² (2114 kg/m²)
You may also be interested in these GlobMarble products:
Application: air spray equipment and/or trowel / squeegee

Coloring: Color Packs, Eco-Stain, Eco-Accent
Sealing:
Recommended Exterior sealers: SureSeal HS-200, SureSeal Super WB.
Recommended Interior sealers: Dura-Kote Polyurethane Water Base Clear, Dura-Kote PFC 120 Hybrid Solvent Based Polyaspartic, XS-327