Polyurethane Water Based Clear Coating - DK400WB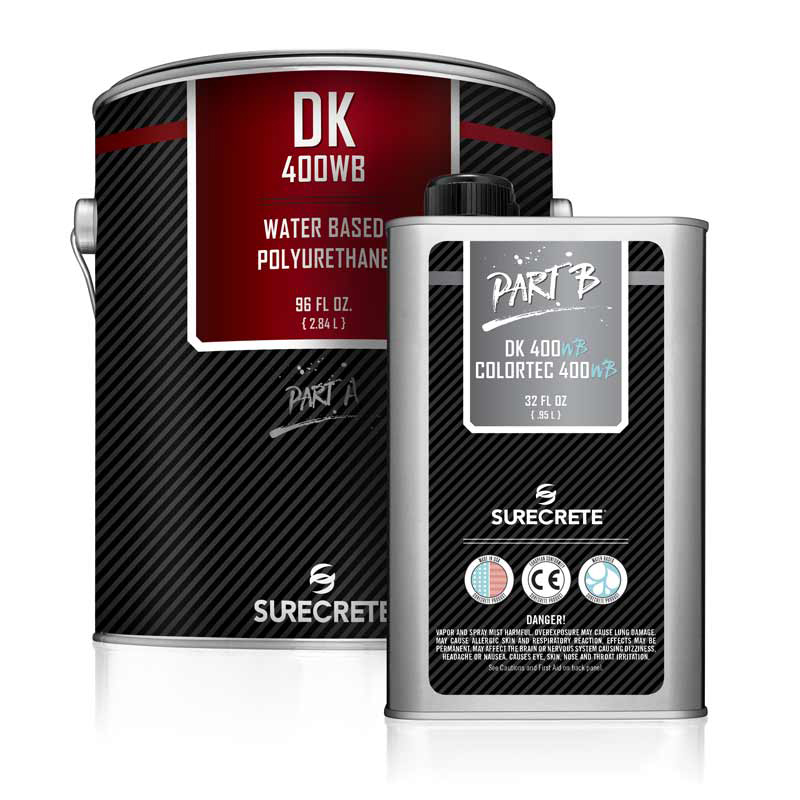 Polyurethane Clear Coat For Concrete Water Based High Performance From Surecrete
Dura-Kote Polyurethane WB is a 2-component acrylic polyurethane (57% solids) formulated as a high performance non-yellowing clear coating for concrete, cement-based overlays, and also as a top finish coat on epoxy systems.
Dura-Kote Polyurethane WB:
provides the durability of a solvent base system with the ease and safety of a low VOC (73 g/L) water-based system;
has remarkable properties related to vapor permeability that permit its use in an exterior setting;
as a vertical wall coating enhances anti-graffiti properties;
is ideally suited for both commercial and residential settings: aircraft hangars, clean room floors, manufacturing facilities, warehouses, bars, clubs, retail stores, automotive showrooms, residential interiors, garage floors, stadiums, or any high traffic area where an exceedingly resilient floor is desired;
for interior coatings, especially in areas or environments in which you are looking for an eco-friendly coating, Dura-Kote Polyurethane WB can be an extremely effective sealer for your concrete projects;
available in gloss or satin finish.
Dura-Kote Polyurethane WB is an ideal coating for generating LEED points and earning Green Projects as a professional applicator. If you're a homeowner or DIY weekend warrior looking to do some work on your home but need to eliminate odor and lower the chemical vapor residue released by your concrete project.
PACKAGING
4 gal. (15.1 liter) kit:
1 – 5 gal. (18.9 liter) short filled pail containing 3 gal. (11.4 liter) part A
1 – 1 gal. (3.8 liter) pail part B
Mixing Ratio: 3:1 (3-part A to 1-part B)
Coverage Varies upon substrate: approximately 300-400 ft2 per gal. (28-37m2 per 3.8 liter) 4-5.3 mils wet; 2-3 mils cured
Polyurethane Clear Finish Coat: First coat may also serve as Finish or Top Coat for several of Dura-Kote specialty systems.
Product designed to be rolled.
You may also be interested in these GlobMarble products:
How To Use:
Any surface that is about to be sealed must be fully profiled and etched. It must be completely clean, and free of any dust, and any other contaminates.
Make sure the temperature will stay between 50-90 degrees Fahrenheit and that the relative humidity stays below 75%.
Pour 1-part B and 4 parts A into a clean mixing container and mix mechanically for 2 minutes. (The kits are premeasured to this ratio).
Use an EpoxyGlide Roller or any other premium de-fuzzed phenolic core roller. Roll out a thin coat over the desired area, and backroll the entire surface to remove roller marks.
2 Coatings are suggested with interior projects. Once you can walk on the first coating, the second is ready to be reapplied in the same fashion.
An optional step is using a sacrificial wax coating to extend the life of the floor and add slip resistance.
Frequently Asked Questions About Dura-Kote Clear Flooring Polyurethane Water-Based:
Q: Can I use just one coat of Dura-Kote DK 400WB Water-Based Clear Polyurethane WB?
A: Although DK400WB is known to perform better than comparable sealers with only one coat, we highly recommend using two thinly applied layers.
Q: Will Dura-Kote Floor Polyurethane WB self-level and fill small holes?
A: To a very slight degree, yes. It is a higher solids content coating than an acrylic sealer but is not robust enough to fill large voids.
Q: Can Dura-Kote Polyurethane Clear Water-Base be used outside?
A: Polyurethane coatings are not as breathable as acrylic sealers, and therefore not used in most traditional exterior applications.
Q: I have strict VOC laws in my area, can I use Dura-Kote Polyurethane WB?
A: Check with your local municipalities to be certain, but given its extremely low VOC rating at less than 75 grams per Liter, this product can be used in almost all states or municipalities.