Polyurethane Water Based Clear Coating - DK400WB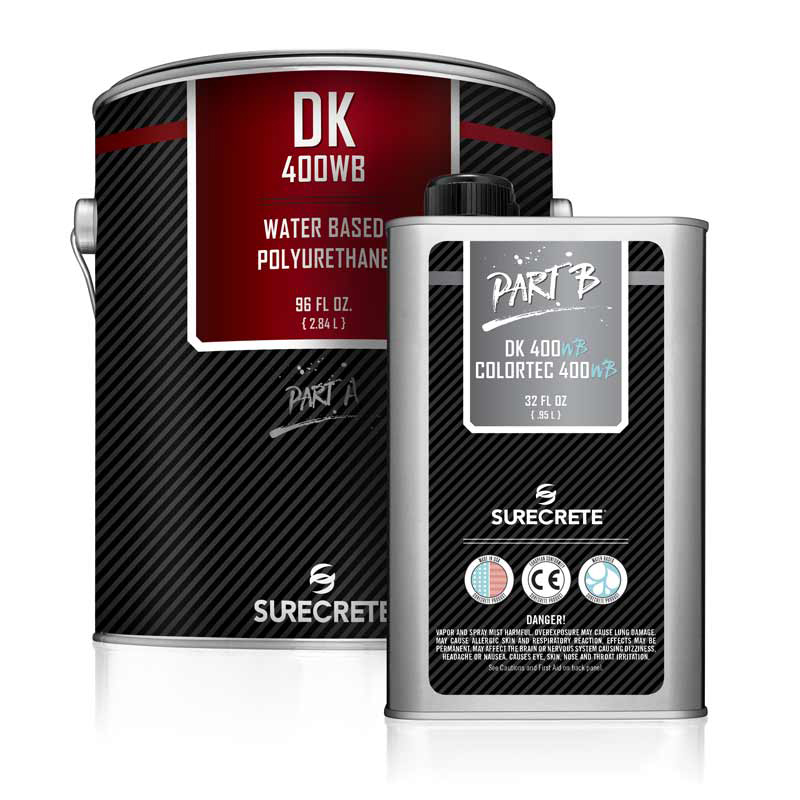 POLYURETHANE CLEAR COAT FOR CONCRETE WATER BASED HIGH PERFORMANCE FROM SURECRETE
Dura-Kote Polyurethane WB is a 2 component acrylic polyurethane (57% solids ) formulated as a high performance non-yellowing clear coating for concrete, cement based overlays, and also as a top finish coat on epoxy systems.
Dura-Kote Polyurethane WB:
- Provides the durability of a solvent base system with the ease and safety of a low VOC (73 g/L) water based system;
- has remarkable properties related to vapor permeability that permit its use in an exterior setting;
- as a vertical wall coating enhances anti-graffiti properties;
- is ideally suited for both commercial and residential settings: aircraft hangars, clean room floors, manufacturing facilities, warehouses, bars, clubs, retail stores, automotive showrooms, residential interiors, garage floors, stadiums, or any high traffic area where an exceedingly resilient floor is desired;
- for interior coatings, especially in areas or environments in which you are looking for an eco-friendly coating, Dura-Kote Polyurethane WB can be an extremely effective sealer for your concrete projects;
- available in gloss or satin finish.
Dura-Kote Polyurethane WB is an ideal coating for generating LEED points and earning Green Projects as a professional applicator. If you're a homeowner or DIY weekend warrior looking to do some work on your home but need to eliminate odor and lower the chemical vapor residue released by your concrete project.
PACKAGING
4 gal. (15.1 liter) kit
1 – 5 gal. (18.9 liter) short filled pail containing 3 gal. (11.4 liter) part A
1 – 1 gal. (3.8 liter) pail part B
MIXING RATIO 3:1 (3 part A to 1 part B)
COVERAGE Varies upon substrate: approximately 300 - 400 ft² per gal. (28 - 37m² per 3.8 liter) 4 - 5.3 mils wet; 2 - 3 mils cured
POLYURETHANE CLEAR FINISH COAT
First coat may also serve as Finish or Top Coat for several of Dura-Kote specialty systems.
Product designed to be rolled.
You may also be interested in these GlobMarble products:
WOOSTER RR642 18" PRO DOO-Z 3/8" NAP ROLLER COVERS
WOOSTER R232 18" EPOXY GLIDE 1/4" NAP ROLLER COVERS