Water Based Epoxy GE-C10W Primer/Coating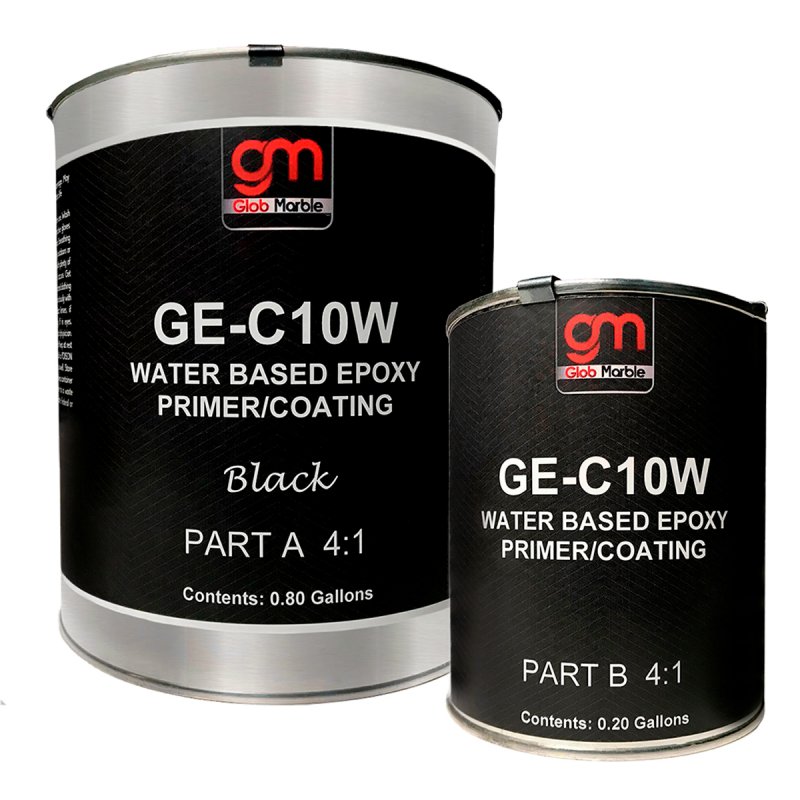 GE-C10W is a water-based concrete floor epoxy coating that is available in 10 pigmented colors. Some of the colors include Black, green, blue, red, gray, white, and many more color varieties are available. Any color that is needed can be customized for this product.
Description
This product is 2 component: 53% solids colored and 45% clear solids clear by weight, low VOC floor coating system that is used in a many application: long-lasting and resistant colored layer that can be used for primer coat for epoxy flakes and metallics, and for old and new concrete floors. The high loading of GE-10W pigments attain the preferred substrate hide and tint uniformity in lots of different colors. Premier balance of GE-C10W produces the premier balance of pliability, strength, and chemical resistance. All of this happens in a low odor, low VOC formulation. GE-C10W water-based epoxy coating has amazing properties related to moisture, unlike a lot of epoxies.
The vibrancy of GE-C10W water-based epoxy finished pigments will last longer than a normal water-based epoxy sealer even with a long period of exposure. Durability and UV-stability aren't the only benefits of GE-C10W water-based epoxy coating, the color range available is also more extensive than the ones available on the market currently. We are also offer pigments to perform color matching for any themes such as sports themes, movie themes, or university colors.
Recommended film thickness:
5 -7 mils per coat wet thickness (yields 2-3 mils dry)
Coverage per gallon:
229 to 320 square feet (22 m2 to 30 m2) @ 5-7 mils wet thickness
Packaging:
1 gallon and 5-gallon kits (volume approx.)
Epoxy mix ratio:
Colors= 8.55# part A (.80 gallons, approximate) to 1.75# part B (.20 gallons, approximate)
Clear = 6.55# part A (.80 gallons, approximate) to 1.90# part B (.20 gallons, approximate)
Pigmented water-based epoxy coating concrete floor application
Step 1: Surface Preparation
Before sealing the surface, it needs to be completely free of all contaminants, clean, and cured, and completely etched and profiled. Make sure the moisture is limited because water-based epoxy systems are non-vapor-permeable sealers.
The temperature needs to be between 50 and 90 Fahrenheit and a relative humidity below 75%. There has to be no precipitation in the areas you apply the product for a 12-hour period after the application.
Step 2: Mixing Water-base Pigmented Floor Epoxy
Setup a mixing area that's in a different area than where you applied the product. Start with mixing Part A for 3 minutes to make sure the pigments are properly dispersed.
Pour in 1-part B to 4 parts A for a minimum of three minutes and spread out ALL material onto intended application surface.
Do not leave pail upside down to drain onto floor. Any un-mixed portion of A or B that may have accidentally been placed onto side of pail can now drain down onto the floor, creating a spot that will not cure.
Step 3: Apply Epoxy on Concrete Floor
Using a squeegee or a good quality roller, apply the first coat.
When the product has been squeegeed or rolled out evenly, back-roll it to eliminate marks from the roller and get an even distribution of color.
The first coat can function by itself depending on application you want. If you want a more scratch-resistance complete coating system you need to apply a finish coat utilizing a Polyurethane or Polyaspartic transparent coating.
Step 4: (Optional) Apply Epoxy Top-Coat Protection
If you're applying a finishing top coat, and the first layer has been allowed to cure for more than 12 hours, using a 100 grit sanding screen you need to screen the coat.
Frequently Asked Questions about GE-C10W Colored Water Based Concrete Floor Epoxy
Q: Can you match my existing floor color with GE-C10W Water-based Colored Concrete Floor Epoxy?
A: Yes, please send us a physical color chip to match your colored water based concrete epoxy.
Q: Can GE-C10W Colored Water Based Concrete Epoxy for Floors be used as a single-coat system?
A: It can definitely be used as a single coat system. We suggest giving it a finish coat and a sacrificial coating so it has better scratch and chemical resistance and an overall system that lasts as long as possible.
Q: Will Water Based Concrete Epoxy for Floors self-level and fill small holes?
A: No, the solids content of colored water based concrete epoxy products are not fill holes in your concrete surface. Concrete grinding or patching with self-leveling material recommended prior to sealer application.
Q: Can I dilute GE-C10W Colored Water Based Concrete Floor Epoxy?
A: Yes, it can be diluted up to 15% by volume with water.
Q: Can I use GE-C10W Colored Water Based Concrete Epoxy on kitchen floor tiles?
A: Yes, the best way is to grind the tile surface, clean it properly than apply epoxy.