High Performance Solvent Base Polyurethane Sealer GU-20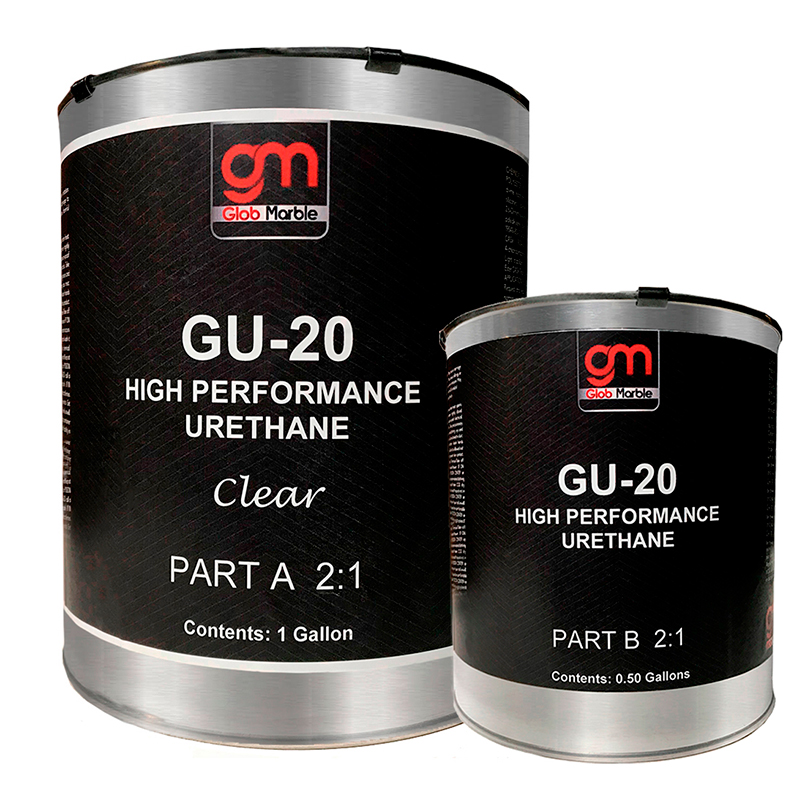 GlobMarble GU-20 is a commercial grade two-component polyester/aliphatic polyurethane coating that exhibits excellent characteristics for abrasion resistance, chemical resistance, flexibility, weathering, and UV stability. This product meets the VOC requirements for the newly enacted VOC laws of New York, Pennsylvania, New Jersey, and other states as an industrial maintenance coating.
GlobMarble GU-20 designed as a non-yellowing solvent based clear coating for cement-based overlays, interior concrete, or as a top finish coat on epoxy systems.
GlobMarble GU-20 polyurethane recommended for concrete coating, laboratories, gyms, residential interiors, auto service centers, bars, clubs, retail stores cafeterias, and chemical exposure areas and more.
RECOMMENDED FILM THICKNESS:
3-5 mils per coat wet thickness (yields 2-3 mils dry)
COVERAGE PER GALLON:
320 to 500 square feet (30m2 to 47m2) @ 3-5 mils wet thickness
PACKAGING INFORMATION:
1.5-gallon, 3-gallon and 15-gallon kits.
3-gallon kit = 2-gallons part A (weight varies by color) and 1-gallon part B (8.5#) (weights and volumes approximate)
15 gallon kit - Please contact sales representative for availability & shipping options
MIX RATIO:
2-parts A to 1-part B by volume (approximate)