GE-GCF Epoxy Crack Filler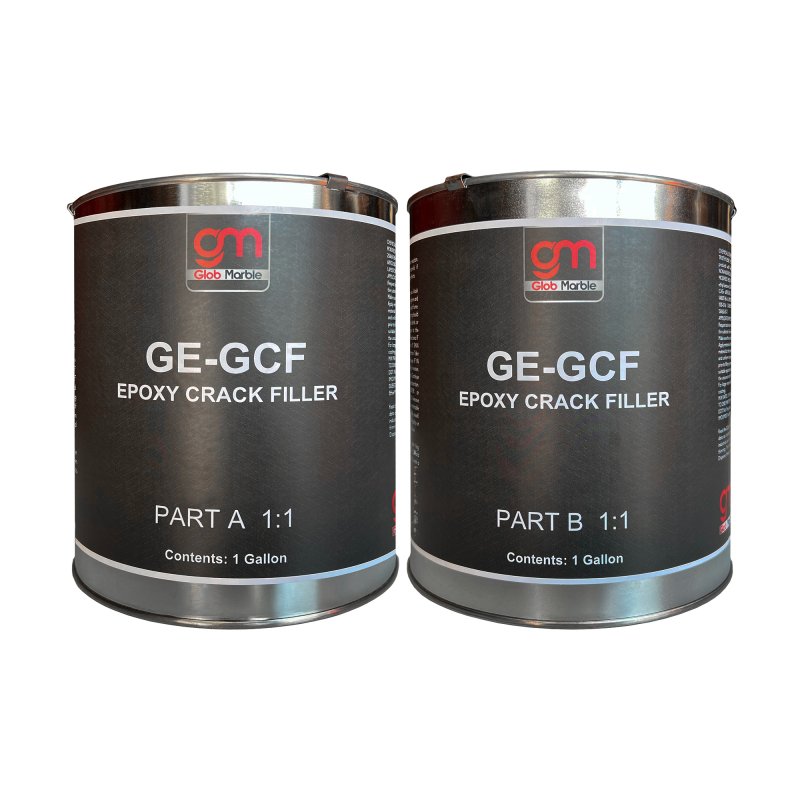 GE-GCF Epoxy Crack Filler is product used to fill in cracks in your concrete and keep them closed for much longer than standard cement-based crack fillers could. Most applications of the epoxy crack filler are used in conjunction with polyaspartic floor coating, epoxy floor coatings, and other similar floor systems. It is recommended to use this epoxy crack filler on cracks of 1/8" thickness.
Mixing ratio: 1:1 by volume
Pot life: 1-3 hours
Instructions:
PRODUCT STORAGE: Store this product at a normal room temperature before using. Continuous storage should be between 60 and 90 degree F. Low temperatures or temperature fluctuations may cause product crystallization.
SURFACE PREPARATION: All dirt, foreign contaminants and oil must be removed to assure a proper bond to the substrate. Before application, a test should be made to determine that the concrete is dry. This is most easily done by placing a 4'X4' plastic sheet on the floor and taping down the edges. If after 24 hours, the plastic sheet has no condensation underneath it, the substrate is dry enough to start repair work. This product is intended for hairline cracks and other fractures up to an 1/8 inch in width. Remove all unsound concrete and debris from within the crack and thoroughly vacuum all debris and dust from within the crack opening.
PRODUCT MIXING: This product has a mix ratio of 1 part A to 1 part B by volume. To mix, measure out equal volumes of the material and mix them together thoroughly with slow speed mixing equipment such as a paint mixer, putty knife or paint stick until the material is uniform in color. Mix only an amount of material that can be used in the allotted pot life period (1-3 hours). Improper or insufficient mixing may result in product failure.
PRODUCT APPLICATION: With no priming required, the mixed material can be applied immediately with a marginal trowel, putty knife or any other suitable tool.
RECOAT OR TOPCOATING: When repairing cracks that are less than 1/8" thickness, most epoxies can be placed directly over the applied crack filler before it is cured. You can also wait for the GE-GCF to cure before applying epoxy over it. Excess amounts of this material may cause amine blush (a whitish, greasy film) on top of the product. If this blush is noticeable, it can be cleaned with xylol or by any standard detergent cleaner prior to topcoating or re-coating. Many epoxy coatings and urethanes are compatible for use over this product. It is possible to do multiple coatings of this product.
CLEANUP: Use xylol.
FLOOR CLEANING: Caution! Some cleaners may affect the color of the GE-GCF. It is recommended to test any cleaner you plan on using on a sample board prepared earlier. If no ill effects are noted, you can use the cleaner in question.
RESTRICTIONS: Before the product is fully cured, keep floor traffic light (see technical data under full cure). It is best to let the floor remain dry for the full cure cycle. Dependent on actual complete system application, surface may be slippery, especially when wet or contaminated; keep surface clean and dry.