Double Caulk Gun For Dual Components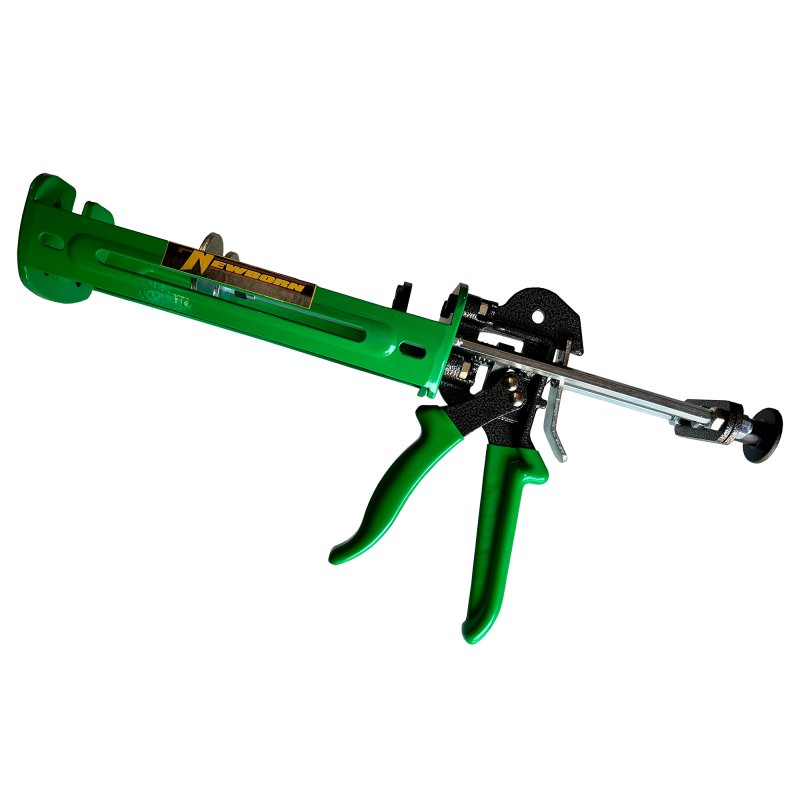 Double Caulk Gun For Dual Components. Used With Fast Set Concrete Repair
The double caulk gun designed to load two cartridges at once, and then combine the contents into one stream in the tip in order to fill cracks in concrete. CRACK FILLER SOLD SEPERATELY
How to Use
Use a diamond turbo blade to open up the crack and remove any loose concrete debris.
Clean the squared concrete with compressed air to remove dust from grinding.
Fill the crack with clean, dry sand until the surface is flush and level
Shake the cartridge for a minimum of 30 seconds, remove the cap and install the flow restrictor on top of the ports. Insert the assembled dual cartridge into the gun.
Point the gun up, and gently squeeze the trigger to release the trapped air in the tip. Then continue squeezing and release a small amount of material to make sure the two cartridges are properly mixing
Apply Fast Set Concrete Repair into the crack while applying even pressure on the trigger to dispense the proper amount of each material.
Coverage: 22 oz cartridge = 1/4" wide x 3/4" deep x 17" long crack (without sand)
Pot Life: Approx. 3 mins
VOC Rating: 0 g/L
Solids Content: 100%
Hardness: ASTM D2240 = 67-72 Durometer
Tensile Strength: ASTM D412 = 4,600 PSI
Elongation: ASTM D412 = 6-8%
Compressive Strength: ASTM C10 = 4,800 PSI (with sand); 3,900PSI (neat)
Bond Strength: ASTM 882-99 = 3,450 PSI
Use together with Concrete Repair Crack Treatment Cartridge.
Frequently Asked Questions About Concrete Crack Treatment:
Q: Can I use a different gun than one it comes with?
A: Technically yes, but it would have to be of the same type that allows for two cartridges and combines them at the tip in the same manner as this gun.
Q: If I use Fast Set Concrete Repair to fix a crack, can I be sure the crack won't come back?
A: Concretes nature is to move and shift because of temperature change, humidity levels, and because of the substrate it is poured on. This means that you can never guarantee that a crack wont travel, or get wider. It is called a treatment because it fills the voids for an overlay to be applied so that the crack won't transfer to the overlay. This said, it still could come back either in the same spot or near where it was on concrete floors.
Q: Will sealer stick to the Fast Set Concrete Repair?
A: Yes, most sealers will stick to Fast Set Concrete Repair as long as it is sanded or roughed before it is applied. Sealers require a certain amount of "tooth" to allow for a proper bond.
Q: Do I have to use the whole container or can I save some for another job?
A: If you save the plug that comes with shipping, you can re-insert it and save for another job. You will have to get a replacement cartridge dispenser to use again.
Q: How soon can I go over Fast Set Concrete Repair with a new coating?
A: In as little as 15-20 minutes, Fast Set Concrete Repair is ready to be ground out to make a level surface and is ready at that point for a new coating to be applied.