Concrete Lithium Densifier/Hardener - LD1800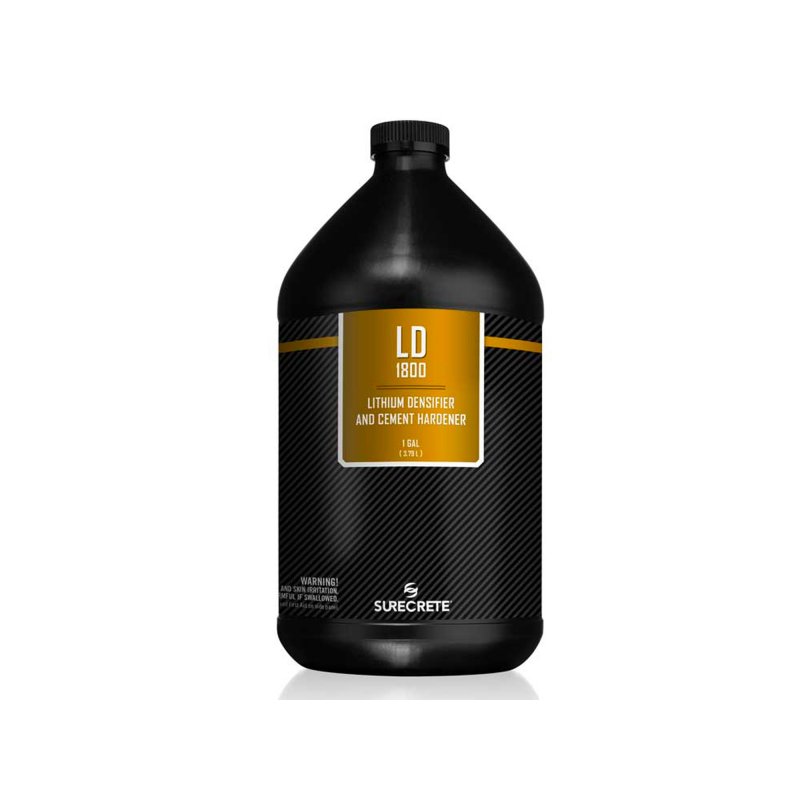 CONCRETE LITHIUM DENSIFIER/HARDENER– LD1800
Concrete surface preparation
SureCrete's LD1800 concrete lithium densifier provides a clean, safe, economical "stand-alone" finished concrete floor. This penetrating treatment reacts chemically with the free lime in concrete to produce calcium silicate hydrate within the concrete pores can help to strengthen your overly-porous or weak concrete surface and make it and more durable. This product can help to extend the lifespan of your slab by helping to solidify the "cream" or top layer of your concrete.
LD1800 is a most desirable alternative to conventional sodium or potassium sodium hardeners that leave a high concentration of salts deposited upon the surface. It will not contribute to alkali silicate reaction (ASR). LD1800 is non-flammable, VOC compliant, environmentally safe, and nonstaining.
It does this by filling in many of the small voids in the concrete with liquid silicate that hardens slowly over time. Whether you are looking to repair an old slab that is loosing it's strength or simply trying to prepare a freshly poured concrete substrate that you want to last longer than the competition, LD1800 can make your jobs stand the test of time with a nearly negligible cost pre square foot.
APPLICATION
May be applied both on new (freshly placed) concrete or on an Old (cured) concrete. LD1800 may be applied with low pressure sprayer, soft bristle broom, mop, or squeegee. For freshly placed concrete use spraying application. Removing any remaining product after 15 minutes are possible with rinsing, squeegee, or floor scrubber.
PACKAGING 1 — Gallon Pail
COVERAGE Approx. 300-400 sq ft per gallon