Basalt Concrete Fibers for Polymers and Concrete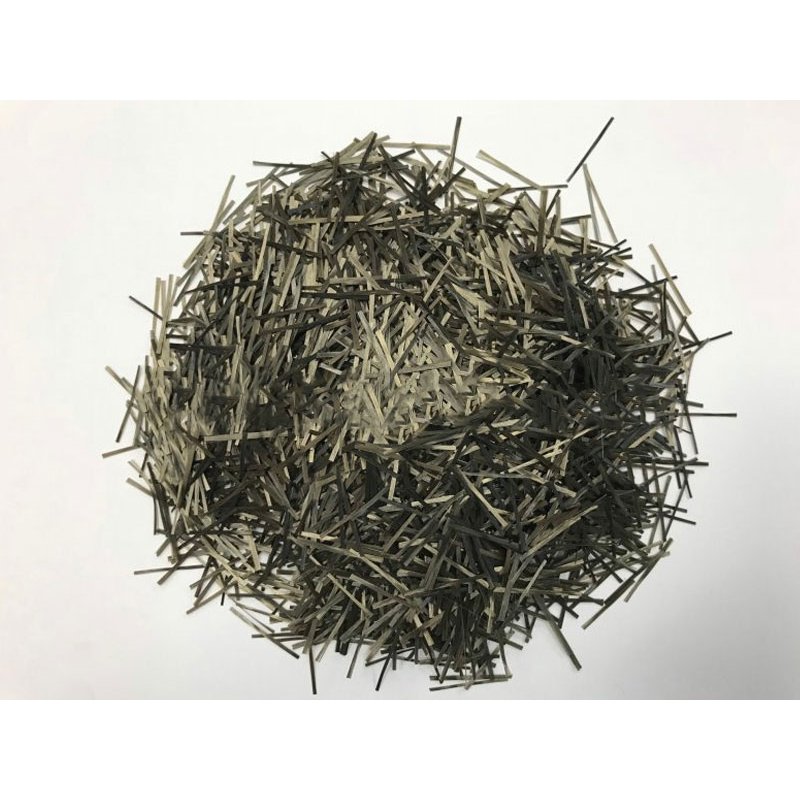 Basalt fiber dosage
Regular concrete mix
We recommend 6-8 pounds of basalt chopped fibers per cubic yard of concrete.
GFRC concrete mix
Fiber content varies but is generally approximately 3% to 7% of the cementitious material weight or 1% to 3% by total concrete weight. Increased fiber content adds strength but decreases workability.
Common water to cement ratios used from 0.25 to 0.35. (25-35% by cementitious material weight)
Basalt Chopped Fibers can be mixed directly into polymers and concrete to increase tensile strength, reduce cracking and chipping.
Perfect for mortar and concrete reinforcement applications; all decorative applications as countertops, fireplace surrounds.
Basalt Fiber has a similar chemical composition as regular glass fiber but Basalt Fiber has better strength characteristics, and unlike most glass fibers is highly resistant to acidic and salt attack and alkaline, making it a good option for concrete, bridge and shoreline structures.
Compared to carbon and aramid fiber, Basalt Fiber has the features of wider application temperature range -452° F to 1,200° F (-269° C to +650° C), higher compression strength and higher shear strength, radiation resistance and higher oxidation resistance
Diameter is 17 microns
Fiber lengths are available in 12 mm, 18 mm and 24 mm / .47", .70", .94"
Various sizings are available for compatibility with a wide range of resins, concrete, and water-based adhesives
Fibers are completely resistant to the effects of the alkali in concrete, and require no special coatings for concrete use
Fibers resist cold down to -260 degrees F, and heat up to 1,500 degrees F
Fibers do not conduct electricity or induce electrical fields
Fibers do not absorb or wick water into reinforced structures
Fibers significantly improves the shock resistance of concrete
Ductility index of basalt fiber reinforced concrete increases by a factor of 2~4.
The addition of basalt fiber can effectively increase the compressive strength, splitting the tensile and flexural strength (especially splitting tensile and flexural strength) of the concrete; values of 9.9%, 37.5% and 44.2% are attained
Crack impact cycle number of the concrete improves by 60%~ 170%, the impact energy improves by 90%~ 260%, and the ductility index increases by a minimum of two times, compared with ordinary concrete
Basalt Fibers advantages:
Stronger than fiberglass in tensile strength
Non-respirable, inert and safe to work with
27% better elastic modulus
UV immune
Non-conductive
Will not harbor bacterial or microbial growth
Better impact resistance, does not shatter like carbon fibers
Ten times better electrical insulator than fiberglass
Very resistant to aggressive liquids, acids and alkalies
Great sound attenuation properties
Replacement for asbestos in frictional material applications
Over twice the strength retention in elevated temperatures than E-glass reinforced applications; better and more stable frictional coefficient and longer life
Higher sound insulation properties than e-glass fibers.
Lower heat transfer coefficient than e-glass and carbon with greater thermal insulation properties
Low coefficient of thermal expansion; approximately the same as concrete
How are Basalt Chopped Fibers made?
Qualified* basalt rocks are broken into small pieces, washed, then melted in 1,888-degree F furnaces. The melted rock is drawn down through special bushings to make fiber filaments. The fibers are then chopped into various sizes. Coatings are applied to make the fibers bond to concrete or resins. All-natural rock basalt fibers are safe, non-respirable and do not burn. *Not all basalt is equal! The basalt has to have the right combination of silicate minerals.