Powder Stamped Concrete Accent Color Water-Based Stain Eco-Accent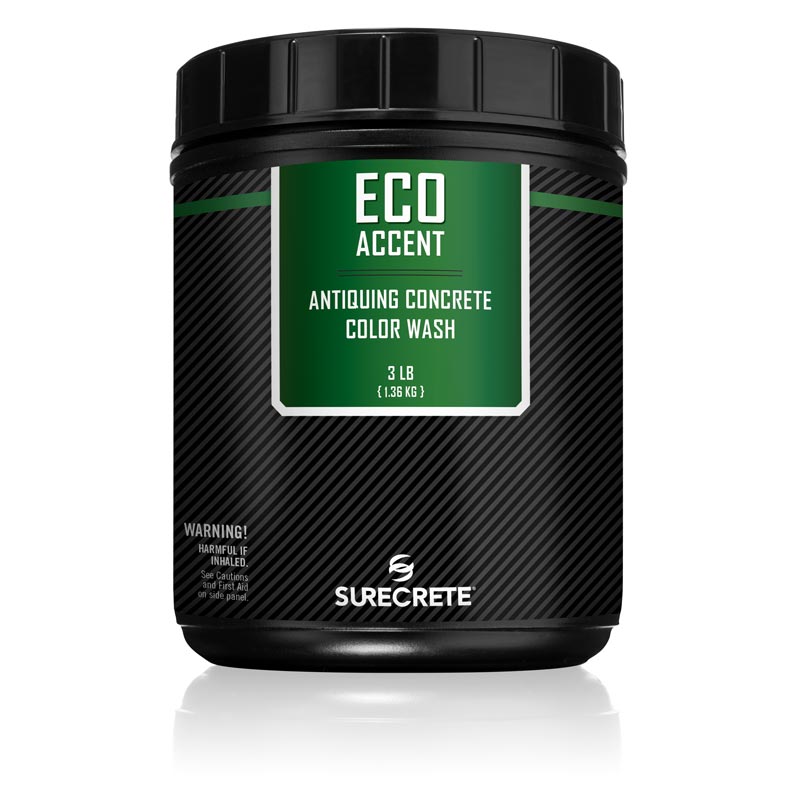 Concrete Accent Color Water Based Stain
Environmentally Friendly
Powder Highlighter
Concrete Accent is a water-based, non-hazardous, zero VOC, UV stable coloring agent that bonds to any textured concrete or cement-based surface including overlays.
Freshly applied decorative concrete can go from boring, lifeless single color to the desirable multi-colored, antiqued, variegated natural color. With water based concrete accent color you may also reach a restoration of old, dull, weathered stamped concrete or textured overlays.
Because of this product's extreme versatility, there are many methods of application that can be combined and altered to some degree. The applicator has an enormous selection of methods particularly since water based concrete accent color is non-hazardous and can be completely removed prior to sealing if correction is required.
Spraying with a pump-up sprayer - Utilize a cone tip or keep sprayer wand in a circular motion to avoid "tracking".
Garden sprinkler can – Simply sprinkle / pour product evenly on the surface.
Pail and broom or brush – Pour product from pail and push around with broom or brush as desired, or dunk brush in pail and push around as desired.
Concrete Accent Color Water Based Stain will settle out varying concentrations of pigment based on depth of texture and any alterations through brushing. Colors may be combined or layered utilizing any of the techniques described above. Some applicators prefer to dampen the substrate with water prior to application to soften the color variation. Water applied over the Concrete Accent Color Water Based Stain will likewise soften color. If desired, sufficient water applied to the colored surface combined with broom or brush agitation will remove color.
Coverage: 200–300 ft2 (18.6–27.9 m2) per mixed gallon
Packaging: 3 or 5 lb
Mixing Ratio: ½ - 2 scoops (scoop included) dry powder Eco-Accent 1 Gallon of water Depends on desired intensity
Frequently Asked Questions About Eco-Accent Concrete Accent Color:
Q: Why has my Eco-Accent antiqued concrete substrate faded over time?
A: There are usually two reasons. Either UV exposure or sealer degradation. On its own, concrete surfaces accented with Eco-Accent will fade over time if exposed to direct sunlight, and all colors will fade if a sealer is not correctly applied and maintained. Over time, sealers fade and need to be replaced or replenished with a fresh coating.
Q: How much Eco-Accent should I use?
A: The application described above is used to get the colors on the color chart, but it could be varied to get stronger or weaker tones as well.