Concrete Cure and Seal CS 250 - 25% Solids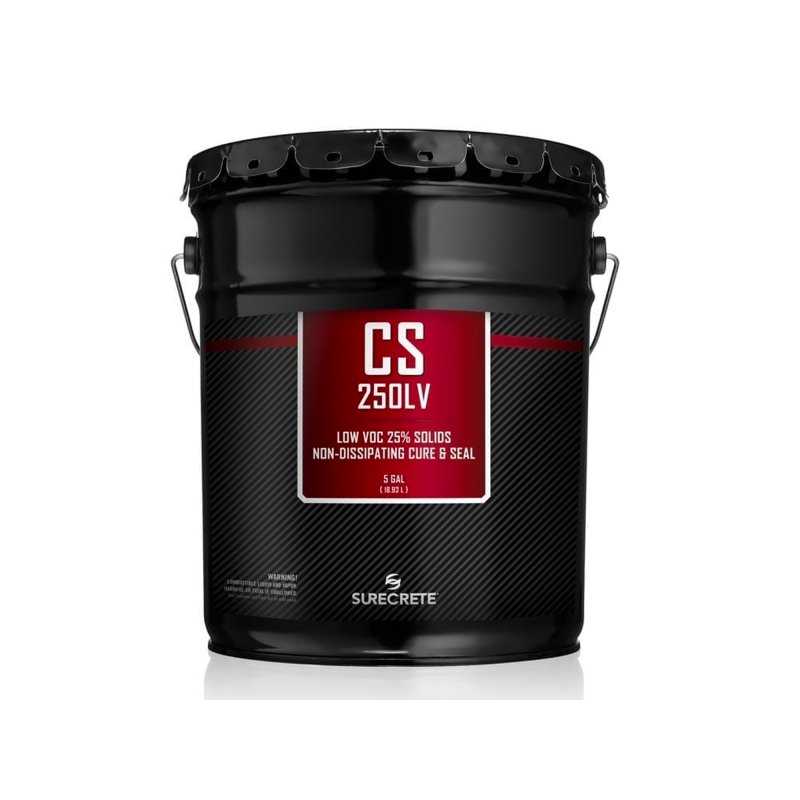 CONCRETE CURE AND SEAL CS 250 – 25% SOLIDS
Acrylic Cure & Seal
SureCrete's CS 250 is a 25% solids finishing membrane that improve the curing process of freshly placed concrete and provides protection simultaneously. Upon application it forms a water –retaining film that beneficially restricts moisture loss what provide concrete to reach its optimal cure and hardness, and thus is an economical alternative to costly, time-consuming water curing. The formulation of Cure n' Seal makes it possible, as the name suggests, for it to be applied during the curing process of freshly poured concrete.
It is a color enhancing, gloss coat helpful in preventing dusting, spalling, moisture and chemical migration through a slab and improves resistance to freeze/thaw cycles. It protects during the many steps of construction from incidental staining, UV protection, and abrasion resistance. CS250 improves any concrete upon placement: driveways and sidewalks, stamped concrete, exposed aggregate, pool decks, terrazzo, parking garages floors, or any other slab, whether industrial, commercial, or residential. This product should not apply as a sealer for concrete overlay systems.
Instead of a curing agent and a sealer Cure and Seal CS 250 can be placed on the surface and then without removing it later, a new coating can be placed over top to give the substrate better protection.
CS 250 is not designed as a stand-alone sealer. After concrete has cured, for optimum performance, finished product should be sealed with one of SureSeal solvent based sealers like 5 Gal HS-240 Premium Sealer or 5 Gal HS-340 Premium Sealer.
Application:
After concrete is placed and final finished (i.e. troweling or brooming are completed) and concrete can bear the weight of applicator, CS 250 may be applied. The surface must be free of water.
May be applied with:
- Pump-up Sprayer
- Rolling. Roller covers require a solvent resistant core, nap size: ¾" is recommended for heavy textured patterns, ¼" mohair is recommended for very smooth surfaces.
- Airless Spraying. Airless sprayer should be capable of a minimum .5 gpm discharge. 2. Tip size should be approximately .015" - .019" with 65° fan.
COVERAGE Varies upon substrate: approximately 300 - 500 ft² per gal., per coat (16.7 - 18.6 m² per 3.8L, per coat) 3 – 5 mils wet; 0.8 – 1.3 mils cured
PACKAGE: 5 Gal. pail.
For Slip Resistance please also refer to SureGrip – Non Slip Sealer Additive HD