Concrete Cure and Seal CS 250 - 25% Solids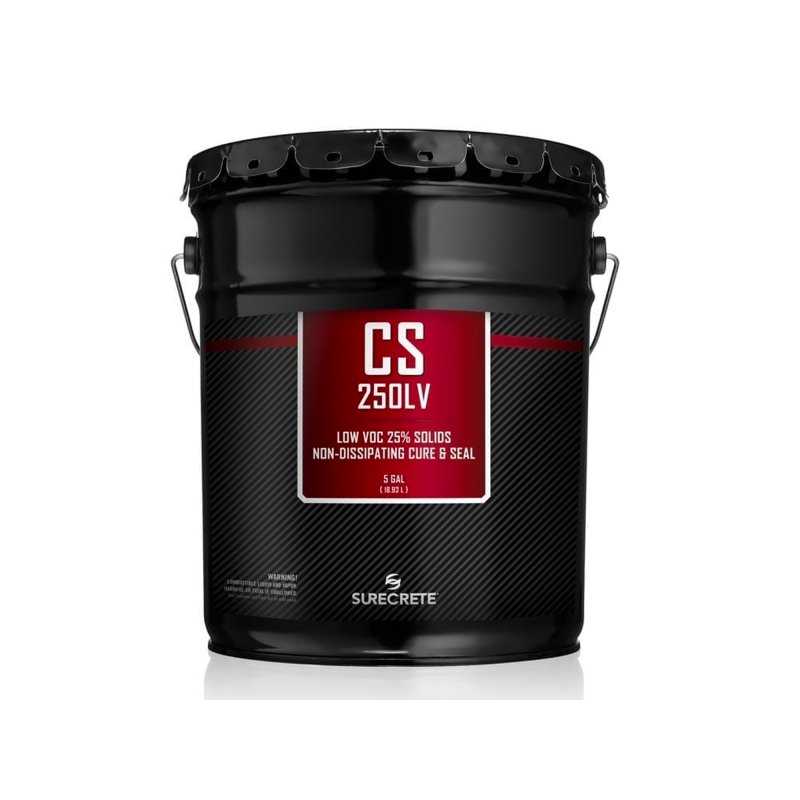 CONCRETE CURE AND SEAL CS 250 – 25% SOLIDS
Acrylic Cure & Seal
SureCrete's CS 250 is a 25% solids finishing membrane that improves the curing process of freshly placed concrete and simultaneously provides protection. Upon application it forms a water–retaining film that beneficially restricts moisture loss that helps concrete reach its optimal cure and hardness. Therefore, this is an economical alternative to costly, time-consuming water curing.
It is a color enhancing, gloss coat helpful in preventing dusting, spalling, moisture and chemical migration through a slab and provides resistance to freeze/thaw cycles. It protects during the many steps of construction from incidental staining, UV protection, and abrasion resistance. CS250 improves any concrete upon placement: driveways and sidewalks, stamped concrete, exposed aggregate, pool decks, terrazzo, parking garages floors, or any other slab, whether industrial, commercial, or residential. This product should not be applied as a sealer for concrete overlay systems.
Instead of a curing agent and a sealer, CS-250 can be placed on the surface and then without removing it later, a new coating can be placed on top to give the substrate better protection.
CS 250 is not designed as a stand-alone sealer. After concrete has cured, for optimum performance, finished product should be sealed with solvent based sealers like GU-20.
Where it's used:
Residential Driveways & Sidewalks
Commercial Parking Lots
Commercial Walkways
Driveway Concrete Cracks
University Sidewalks
College Campus Concrete Floors
Commercial Pool Areas
Stamped Concrete
Fresh Poured Indoor Patios
Fresh Poured Residential Pool Decks
Residential Living Area Substrates
Fresh Poured Outdoor Living Areas
Concrete Stairs
How to Use it:
Any surface about to be sealed must be completely clean of any dust, dirt or any other contaminable.
Make sure the temperature stays between 50-90 degrees Fahrenheit and that there will not be any rain or precipitation in the applied area for a 24-hour period.
Either roll on with a solvent resistant roller, or spray on with a pump sprayer. Apply in thin coats.
Two coats are typically suggested with any exterior project, the second layer being applied as soon as the first coat can be walked on.
Coverage: Varies upon substrate: approximately 300-500 ft2 per gal., per coat (16.7-18.6 m2 per 3.8L, per coat) 3–5 mils wet; 0.8–1.3 mils cured
Package: 5 Gal. pail.
For Slip Resistance please also refer to SureGrip – Non Slip Sealer Additive HD
Frequently Asked Questions About Thin Concrete Repair Flash Patch
Q: Why should I use Cure and Seal CS Series instead of a curing agent and an acrylic sealer?
A: If you use a curing compound and want to come back with another protective coating later – an epoxy, an acrylic sealer, even a penetrating sealer; that curing compound can't be there. It has to be completely removed before any additional sealants can be applied on top. If it's an interior application it will never go away by itself; it would have to be removed after 28 days. Long story short, its a very messy job, and certainly one that no homeowner wants to go about doing. Cure and Seal CS 250 doesn't have those limitations. It can be placed on your surface and then without removing it later, a new coating can be placed over top to give your substrate better protection.
Q: What is the difference in a cure and seal and an exterior acrylic sealer?
A: Acrylic sealers are the perfect exterior protection on concrete surfaces. Cure and Seals are acrylic sealers by definition but are used with a specific purpose in mind. Most sealers repel moisture and stains on the surface but are breathable to allow moisture in the concrete below out. However, Cure and Seals use a styrenated acrylic, with the intention of not allowing moisture that's held in the concrete out. With this very specific attribute, cure and seals are used on freshly poured concrete surfaces that have a high amount of moisture left in the cement and aggregate surface. By doing so it slows the curing process and allows the concrete to become stronger and more durable for seal curing concrete.
Q: Can the CS Series Cure and Seal serve as a stand-alone sealer?
A: No, it should not be used as a stand-alone sealer product. Once the substrate has fully cured, a more resilient coating should be applied to give your new floor better protection.
Q: Can I use just one coat of CS Series Cure and Seal?
A: Technically yes, however it is not suggested. For the best results we highly recommend using two thinly applied coats.
Q: Will CS Series Cure and Seal survive the freeze/thaw cycles in my area?
A: While it is slightly less durable in this regard than our other premium acrylic sealer products, this coating is usually only by itself on a substrate for less than 30 days when a new, more resilient coating is typically applied, under these circumstances it should survive while it is still this freshly applied.
Q: Can I reseal my existing concrete with CS Series Cure and Seal?
A: Cure and Seals are not advised on existing concrete surfaces. When moisture is present below the surface of the acrylic film, it can look cloudy or milky. This is not an attractive look. Therefore, the use of a non-styrenated acrylic is a wise choice. High-quality solvent based acrylics give optimal protection, are less slippery when wet due to their penetration abilities, and are breathable to allow moisture underneath out. All products above used for cure concrete sealing like quikrete concrete.