Elasto-Shield - Concrete Water-Proofing Membrane Elastomeric Liquid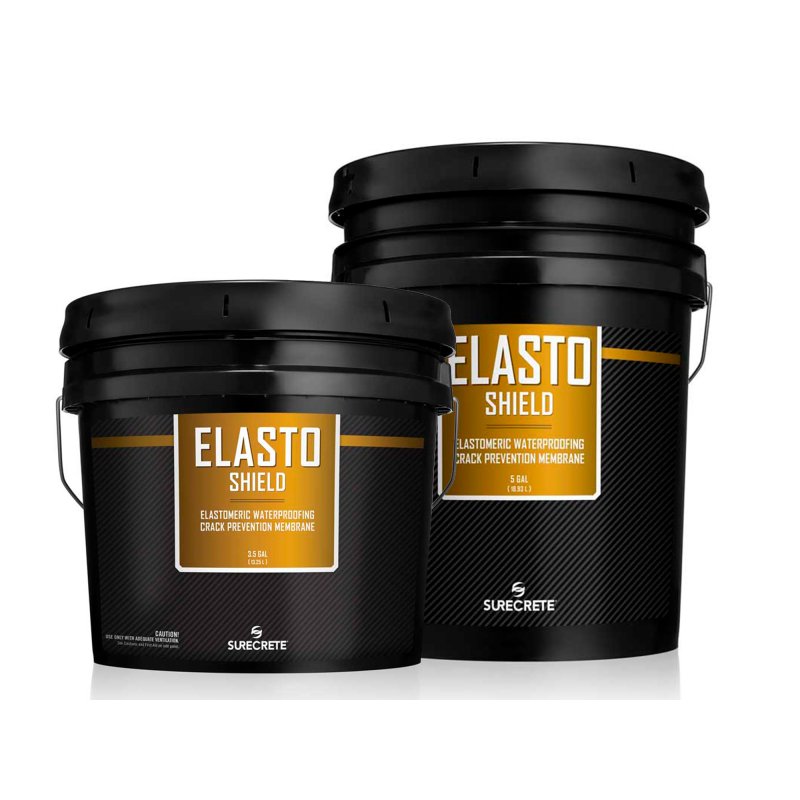 ElastoShield by SureCrete is a ready-to-use concrete waterproofing and crack-prevention elastomeric liquid membrane that provides waterproofing for all coating systems both horizontal and vertical. This water borne system has no solvents and requires no catalyst, which eliminates pot-life problems. No special safety equipment or respirators are required (unless sprayed).
The single component formulation may be applied by brush, roller, or airless sprayer to many construction substrates, including (but not limited to):
Plywood, OSB
Cement Backer Boards
Although specifically created for SureCrete overlays, ElastoShield is also ideally suited for use with:
Ceramic Tile
Stone
EFIS & Foam Applications
It provides superlative flexibility and elongation with waterproof properties that allow the span of cracks and voids in the substrate. ElastoShield™ reduces crack transmission in floors and walls and forms a continuous waterproofing barrier with outstanding adhesion. Quick dry times between coats reduce job time. Upon cure the membrane will not soften with high temperatures or become brittle with lower temperatures.
Packaging
3.5-gallon pail (13.25 L)
5-gallon pail (18.9 L)
Coverage: Varies upon substrate porosity, texture, and application method: 150 sq. ft per gal (14 m2 per 3.8 L)
How To Use:
Make sure your surface is completely clean and free of any dust/debris and oils.
If your surface is especially porous, keep the surface misted to help with making the application easier.
Roll on with a ¾ inch nap roller.
Joints and splices should be treated with a stitch bond fabric after the first coat of ElastoShield and then treated with a second coating.