Acrylic Solvent Pigmented Sealer (Low VOC) ColorTec Acrylic LV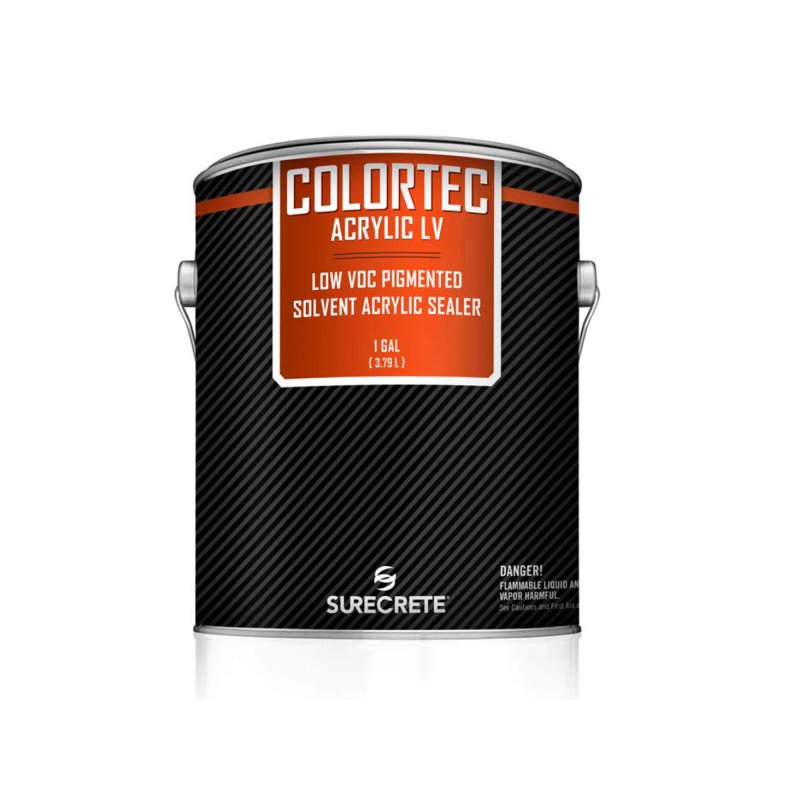 Acrylic sealers are designed to be used on outdoor concrete surfaces but may be used for exterior applications as well. The sealer will not let water absorb into the concrete surface but allows moisture to permeate through the sealer making it ideal for driveways, garage floors, pool decks, patios, walkways, stucco and many more exterior surfaces.
ColorTec Acrylic LV has excellent UV protection so the sealer will not yellow and the pigment will not begin to fade over time.
Coverage rate depends on how porous your substrate is (generally 160-200 square feet per gallon).
Cure rates:
Tack free- 1.2 hrs.
Ready for recoat- 24 hrs.
Light use- 24 hrs.
Heavy traffic- 42 hrs.
Surface Preparation:
Before applying any sealer to concrete, the surface must be prepped to ensure a proper adhesion of topcoat to surface. Missing any parts of the surface prep will most likely result in the sealer flaking off. Ensure you get the most out of our product by following these steps.
Make sure that the concrete is fully cured. Most concrete is fully cured approximately 28 days after pouring it even though it feels hard to the touch long before this point. To see what happens if this step is not followed you can watch this video.
Be sure that the concrete is not retaining any moisture. This problem is common in basements and humid environments, and will result in flaking and bubbling under the sealer. To check if your concrete is too moist you can tape all 4 sides of a plastic sheet to the concrete. If there is condensation under the plastic sheet after approximately 16 hours, your concrete is too wet.
Clean and profile the surface. Contaminates on your surface will prevent the sealer from adhering to your concrete, and sometimes they may cause the sealer to cure improperly. A few examples of common contaminates are dust, dirt, grease, oil, curing agents, paint, efflorescence, glue, rust, algae, and mildew. To clean the concrete, you may grind or shotblast the surface. This will both clean any contaminates off of your surface and also profile it. The pores of the concrete will be opened up and have a much stronger bond with the sealer.
Patch any small hairline cracks with a product like featherfinish so that they will not be visible after the sealer coating is applied. For larger cracks or uneven floors, we recommend using a self-leveling compound to make the floor as even as possible. Any high points or peaks should be grinded down.
Any walls that touch your floor should be taped off with painters tape to avoid getting sealer on them.
Planning:
Product is flammable. Turn off any potential sources of ignition such as fuel burning appliances or pilot lights.
Provide proper ventilation to prevent the fumes do not accumulate.
Select appropriate PPE (personal protection equipment). Use of a NIOSH approved respirator is required. Refer to SDS.
Mixing:
We recommend setting up a mixing station on unopened trash bags for the easiest clean up. Place it in a location that will not block the progress of your application. Since the ColorTec Acrylic LV is a one component sealer, the only thing that needs to be mixed is the pigment which has settled to the bottom of the bucket. Use a jiffy mixer at medium speed for 3 minutes to properly disperse all of your pigment.
Application:
Rolling:
Utilize a bucket grid to apply in a thin film.
Use rollers that are meant for sealers. Some rollers are made of materials that will dissolve in the presence of solvents like sealers. Be sure to "de-fuzz" your roller with blue painters tape to remove any stray roller hairs.
Pour thin ribbons at the back of your jobsite and roll the product out in a thin coating.
As you work your way backwards to the front of your jobsite, a second worker should be backrolling the existing concrete to evenly distribute the sealer and to mask roller marks.
Continue steps 3-4 until the whole surface is covered.
(Optional) A second coat of ColorTec Acrylic LV is not required but if you wish to roll one on anyways, you may repeat all the previous steps once the first coat is dry to the touch and tack free.
Airless Spraying:
Airless sprayer should be capable of a minimum 0.5 gpm discharge, and a tip size approximately .015"-.019" with a 65 ° fan.
Spray the sealer onto your concrete surface in a thin coat
If puddling occurs, have a second worker backroll the sealer to evenly disperse it.
Once done, clean the sealer with xylene or acetone.
Pump Spraying:
Select a solvent resistant sprayer with a cone tip that can pass 30% solids products. Be sure to have extra tips incase the existing tip gets clogged with cured sealer.
Pump and spray the sealer onto your concrete surface in a thin coat
If puddling occurs, have a second worker backroll the sealer to evenly disperse it.
Once done, clean the sealer with xylene or acetone.
Frequently Asked Questions:
Q: Can you color match our existing concrete color?
A: Yes, we can, but you would need to bring us a physical color chip so we can place it in our color matching laser machine.
Q: Will ColorTec Acrylic LV self-level and fill small cracks and holes?
A: No, this product was not designed with these criteria. Any cracks or holes should be patched with a product like featherfinish prior to applying this sealer to your concrete surface.
Q: Will ColorTec Acrylic LV survive the freeze / thaw cycles in my area?
A: While we can't say with 100% certainty that it will ALWAYS survive these cycles, this IS what this product was designed to do, so in all likelihood, yes it will!