EnviroStrip - Water-Based-Acrylic Paint and Sealer Remover and Stripper. 1 Gal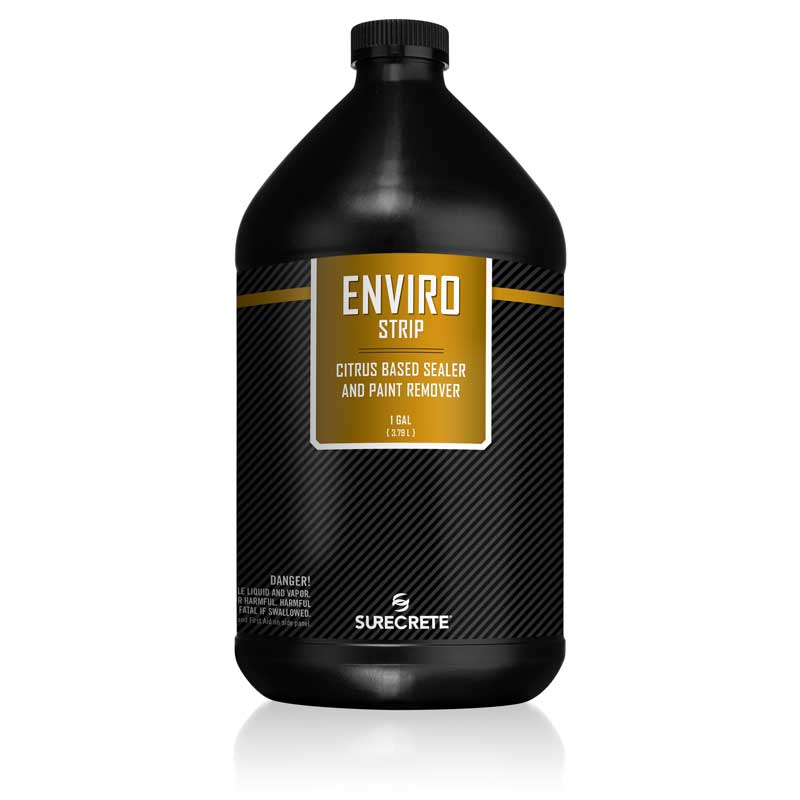 Envirostrip By Surecrete Is A Water Based Acrylic Sealer Stripper
Removes any water based acrylic coatings or deeply embedded greasy soil on concrete floors.
May be used for clear or pigmented water based acrylic sealers.
Performs effective stripping without the use of flammable solvents and harsh chemicals.
Softens water-based acrylic in 20-30 minutes.
Water-Based Sealer Stripper.
Non-Flammable
Coverage: 150 sq. ft for 1 Gal
For Solvent Based Sealers we recommend using Fast-Strip Plus
How To Use:
Either spray with a pump sprayer or pour and brush/squeegee over desired surface.
Allow EnviroStrip to soak for at least 10 minutes before thoroughly rinsing with water.
Heavier coating might require more EnviroStrip, longer soaking duration and scrubbing with a nylon bristle broom.
If using in interior applications, utilize a wet vac to remove the EnviroStrip completely, ensuring no residue will be left behind.
Where to Use:
Strip Exterior Water Based Acrylic Sealers
Interior Water-Based Acrylic Coatings Removal
Water Based Acrylic Paint Remover
Paint Product Removal
Solvent Free Paint Remover
Better than Goof Off
Patios Sealer Removal
Remove Pool Deck Sealers
Older Interior Concrete Floors
Exterior Building Walls Coatings
Commercial Floors Product Paint
Driveways and Walkways
Pool Deck Home Paint Remover
Wood Acrylic Paint Striper
Products Paint Removers
Outdoor Removers Paint Strippers
Outside Paint Remover Stripper