Concrete Vibrating Motor 0.28 kW Power (110V, 220V)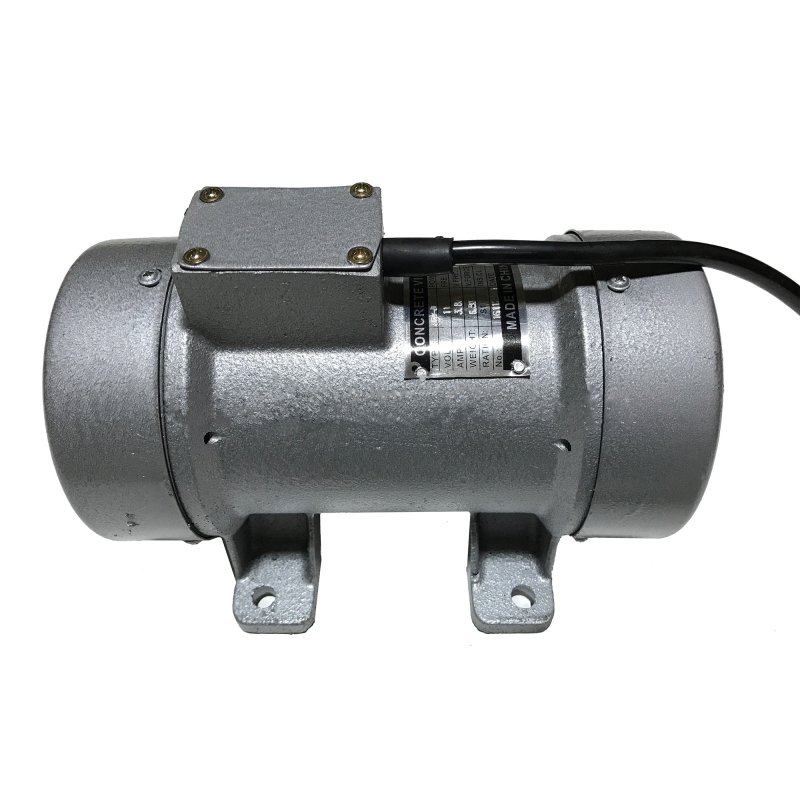 Concrete Vibrating Motor


Vibrating Motors for Concrete Vibrating Table

Concrete Vibrating Motor Futures:
1. IP65 protection requirements completely protected from any external contact, dust penetration, and splash water.
2. 100% continuous operation is guaranteed, even when the equipment is operating at full centrifugal force.
3. Vibrating motors vibration resistant and able to withstand temperatures up to 180°C
4. Long service life and very low concrete vibrator maintenance requirements
5. Lightweight concrete vibrating motor, small and large volume vibration, easy adjustment of vibrating force
6. Can be vibrating source for vibrating conveyor, vibrating feeder, vibrating screens, filter, concrete forms, vibrating polisher, vibrating drier and close-proof device for block during vibrating and more
7. Vibrating motors widely used in mining, metallurgy, coal industries, electric power, construction, chemical industry, casting, food and light industry and more
8. Vibrating force can be easily changed within the certain scope to satisfy various requirements
Concrete Vibrating Motor 110 V Specifications:
Power 0.28kw
Vibration 2.9kn
Force (300kgf)
Voltage 110V 50/60Hz Available in 220v by request
Rotary Speed 2840rpm
Currency 3.1A
Install Size dia. 26*22*16 cm (11*9*7 inch)
Weight 8kg(17.6lbs)
Packaging 27*23*17cm (11*9*7 in)
Concrete Vibrating Motor 220 V Specifications:
Power 0.28kw
Vibration 2.9kn
Force 700 lbs (300kg)
Voltage 220V 50/60 Hz - Available in 110v
Rotary Speed 2840rpm
Currency 2.5A
Install Size dia. 26*22*16 cm (11*9*7 inch)
Weight 8kg(17.6lbs)
Packaging 27*23*17cm (11*9*7 in)


FREQUENTLY ASKED QUESTIONS ABOUT CONCRETE VIBRATING MOTOR:
WHAT TYPE OF SPEED CONTROLLER CAN BE USED WITH THIS MOTOR, OR DOES I HAVE VARIABLE SPEED?
Motor do NOT have speed controller. Motor comes with rower On/Off switch only. it ready to work, just plug in to out let and start working.
Speed controller sold separately. We offer 2 types of speed controllers. 1 inexpensive router speed controller that can be used for small projects and manufactured for vibrating motors speed controller. See options here please http://globmarble.com/online-store/en/concrete-stone/concrete-vibrator.html
MAKING 10' X 2' TABLE MOUNTED ON RUBBER TIRES TO HOLD ~400LBS CONCRETE MOLDS. IS 1 MOTOR BELOW MIDDLE TABLE ENOUGH TO VIBRATE CONCRETE ADEQUATELY?
10 f. table is pretty long, i would recommend to use 2 motors to distribute vibration evenly over the table or get more powerful motor: https://globmarble.com/concrete-vibrating-motor-110v-075-kw.html
IS IT OKAY TO MOUNT THE VIBE ON THE UNDERSIDE OF THE TABLE?
This is the best option to mount the motor. Motor has 4 Legs with pre- drilled holes especially for under table mounting.
I AM WANTING TO USE THIS MOTOR TO BUILD A VIBRATING TABLE THAT IS 6'X7' THAT SCREEN A WASTE WATER STREAM FOR DEBRIS. WOULD THIS MOTOR WORK FOR THAT?
We tested the motors on 600 lbs cast. It will work on any size table if you'll make a solid frame to distribute vibration on whole table