HS-300 Premium Acrylic Stamped Concrete Sealer 5 Gal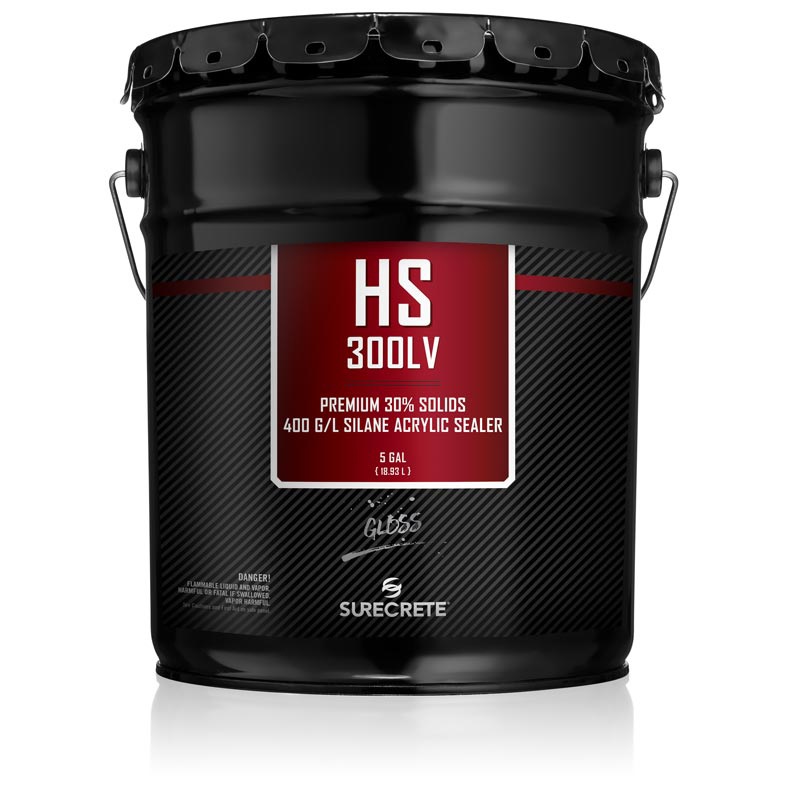 HS300 ACRYLIC OVERLAY SEALER LOW VOC


ACRYLIC STAMPED CONCRETE SEALER HS 300 LOW VOC


ONLY LOCAL PICK UP OR SHIPPING ON PALLET, CONTACT US FOR FREIGHT RATES
SureCrete's HS 300:
- is a premium, high performance, single-component, 30% acrylic solids, low VOC (400 g/l), sealer
- formulated for SureCrete overlays or other cement-based products like a clear stamped concrete sealer.
- specially designed for extreme climates where a low VOC sealer is required (Cold Weather, Freeze/Thaw Climates)
- its' nano-sealer technology deeply penetrates and reacts internally with cement, slowing moisture migration and efflorescence and intensifying bond capacity.
- slower evaporating solvents will not show a "cotton candy effect" before the applicator can finish a tight, smooth surface even in warmer climates.
- provides a UV shield, enhance the beauty, and protect the surfaces.
Surfaces: driveways, garage floors, patios, walkways, pool decks, and stucco.
HS-340 is vapor permeable and readily applies outside.
May be applied with:
- Pump-up Sprayer
- Rolling. Roller covers require a solvent resistant core, nap size: ¾" is recommended for heavy textured patterns, ¼" mohair is recommended for very smooth surfaces.
- Airless Spraying. Airless sprayer should be capable of a minimum .5 gpm discharge. 2. Tip size should be approximately .015" - .019" with 65° fan.
Recoats HS 300's silane, acrylic formula creates the premier choice to reseal or refresh an existing decorative concrete project. The surface should be cleaned with a pressure washer and Super ConCrete Renovator
PACKAGING 5 gal. (18.9 L) pail
COVERAGE Varies upon substrate: approximately 200 - 240 ft² per gal., per coat (18.6 – 22.3 m² per 3.8 L, per coat) 6.7 - 8 mils wet; 1.3 - 1.6 mils cured.
For Slip Resistance please also refer to SureGrip – Non Slip Sealer Additive HD
You also may be interested in these GlobMarble products:
Northern areas suffer from freeze and thaw cycles that can make the utilization of a typical protective exterior concrete acrylic sealer very problematic. Over time and multiple freeze/thaw cycles, most acrylic sealer will begin to delaminate and detatch from the original substrate (typically an overlay with 30% solids acrylic coatings) and sometimes take chunks of the original concrete with it. For this reason, many have chosen to forego the application of an acrylic sealer altogether in these environments. HS 340 makes it possible to not only apply a sealer safely without worrying about it becoming weak and delaminating over time and multiple freeze and thaw cycles, but also to do so while adhering to strict VOC laws requiring solvent acrylic concrete sealers to vaporize less ecologically hazardous solvents into the air.